Joanne Disch (Ph.D., '85) will receive UMSN's inaugural Distinguished Alumni Award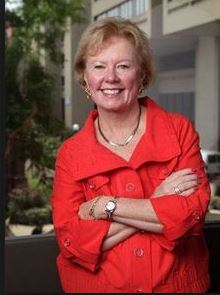 The Alumni Society Board of Governors of the University of Michigan School of Nursing (UMSN) and UMSN have named Joanne Disch, Ph.D., RN, FAAN, the inaugural 2017 Distinguished Alumni Award winner.
Disch was selected for numerous accomplishments and qualities, chief among them her leadership in clinical and academic settings.
Her contributions to the clinical practice of nursing are primarily in safety and innovation. She has worked across disciplines in the healthcare field to foster safe practices in new clinicians, and in doing so has proven the powerful influence of nurses in the clinical setting. She has also worked with the AARP to reduce medical errors, including testifying before the U.S. Senate.
Disch received her nursing Ph.D. with a focus on healthcare economics from UMSN in 1985.
"I cannot overstate the importance of an education from Michigan, and I'm not just saying that because of the award. The school has given me background and perspective that I have relied on my entire career," she said.
"To receive this award was surprising and thought-provoking. It feels like the school keeps on giving to me."
Disch has served as professor at the University of Minnesota School of Nursing since 1991. Recently retired from active teaching, she now spends the bulk of her time on leadership and governance work with a number of boards.
She served as president of the American Academy of Nursing (2011-2013) and is currently a member of that organization's Institute for Nursing Leadership Advisory Council and the Robert Wood Johnson Foundation's Executive Nurse Fellow Program National Advisory Committee, in addition to a number of other professional organizations.
President of the UMSN Alumni Society Board of Governors, Linda Zoeller (BSN '71, MPH '74), is pleased that Disch was selected to receive this award.
"Dr. Disch has demonstrated leadership at all levels as she has transformed health care practices to ultimately benefit the recipients of health care. Her extensive contributions to nursing practice, education and research have advanced our practice significantly. She is an inspiration to many nurses as she has led our profession forward in its quest for delivering safe, quality health care," Zoeller said. 
The Distinguished Alumni Award will be presented to Disch during the UMSN homecoming reunion luncheon on Friday, October 27.