Where are they now? UMSN catches up with past student spotlights
Throughout the year UMSN highlights students from all degree programs and departments. We're proud to shine a light on the various individuals who make up our community. See what's changed for some of our past spotlights as they move on to the next phase of their lives!
Spoiler alert: these include an attempt to qualify for the Boston Marathon, the birth of twins, and a meeting with President Schlissel!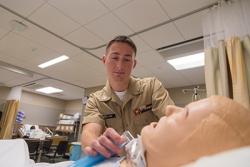 DeLong was selected for the Nurse Candidate Program in the U.S. Navy, and is training for the Mountains to Beach Marathon in Ventura, CA in May, 2018. His goal is to qualify for the Boston Marathon by running the race in less than 3 hours and 5 minutes.
Fauer graduated from the BSN program in April 2017 and started the Ph.D. program in fall of 2017.  He is focusing on cancer care. He was recently awarded the "Rising Star" award by Sigma Theta Tau, Rho Chapter. Fauer is still active in the U-M Triathlon Club and raced in the USAT Collegiate National Championships in Tuscaloosa, AL in April.
Grimshaw still hangs out with Winston, her rabbit, but had to leave him at home when she was invited to speak at the Health Sciences Scholars Program (HSSP), a pre-professional Michigan Learning Community in the College of Literature, Sciences, and the Arts (LSA), University of Michigan. HSSP aims to introduce LSA freshman to key issues and careers in health care.
This father of four is beyond excited to graduate from his DNP program, and the two newest members of his family, 8 month old twins Rawan and Zaid, are ready to congratulate him! His DNP project is titled: Early Prediction of Patient Deterioration using Sequential Organ Failure Assessment (SOFA) by the Rapid Response Team (RRT).
Koomen is job hunting, looking especially for jobs in warmer climes! Over the past year she has helped to grow the membership of the Student Nurses Association, and SNA raised $2,400 for Ronald McDonald House.
Rysdyk is looking forward to graduation and is on the job market. As outgoing president of Nursing Student Government (NSG), she is wrapping NSG projects and transitioning to the new leadership. Most recently, NSG raised $5594 for the Chad Tough Foundation, which focuses on funding research and raising awareness for pediatric brain tumors with an emphasis on Diffuse Intrinsic Pontine Glioma (DIPG). 
Schaumburger found her passion in the surgical ICU and is interviewing for positions in critical care. She continues to teach yoga and can't wait to graduate!
Selmane hopes to join Mott Children's hospital after she graduates and is planning to return to school after a few years of experience working. As vice president of communications for Nursing Student Government, she attended the President's and Regents' Tailgate at the U-M-Ohio State football game where she demonstrated UMSN's virtual reality technology to attendees. She is also a youth mentor to girls in her community.
All of our students demonstrate in some way the Michigan Difference.  If there is a student or graduate who inspires you, let us know by emailing sn-comm@umich.edu.