UMSN's Distinguished Alumni Award honors Helen Erickson, Ph.D., RN, AHN-BC, FAAN (BSN '74, MS '76)
The Alumni Society Board of Governors of the University of Michigan School of Nursing (UMSN) and UMSN have selected Helen Erickson, Ph.D., RN, AHN-BC, FAAN, as the 2018 Distinguished Alumni Award winner.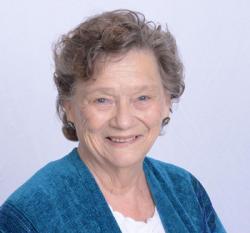 Erickson will receive her award and give remarks at the UMSN annual homecoming reunion luncheon on October 5, 2018.
Erickson received her BSN in 1974 and her MS in 1976  from UMSN and later received a Ph.D. in Educational Psychology also from the University of Michigan. She served as a faculty member of the School of Nursing from 1976 to 1986 after practicing as staff nurse in the Ann Arbor area beginning in 1964. She began her nursing practice in Midland, Texas, in 1957.
After serving on the faculty at UMSN, she also served on the faculties of the University of South Carolina College of Nursing, where she was Associate Dean for Academic Affairs, and the University of Texas at Austin School of Nursing, where she was Chair of Holistic Adult Health.
Her long career in clinical practice and nursing education has provided a number of important contributions to the field. Chief among these contributions has been the theory and practice of holistic nursing, which takes a "mind-body-spirit-emotion-environment approach to the practice of nursing."
According to her nomination, "Decades before 'patient-centered care' became important, Helen Erickson argued that a person's 'voice' needed to be heard, that only by understanding their worldview could effective nursing interventions be planned. She articulated that the patient was the primary source of data, that when nurses understood a person's worldview – what people needed and valued, and believed to be true – nurses and patients could co-create goals to achieve desired health outcomes and a greater state of well-being."
President of the UMSN Alumni Society Board of Governors Linda Zoeller (BSN '71, MPH '74) is honored to bestow this award on Dr. Helen Erickson. She calls Erickson "a nursing soul from an early age."
"Among her contributions to the nursing profession, Erickson pioneered her nursing theory that supported the concepts of holism in the care of patients. Referred to as the Modeling and Role Modeling Theory and Paradigm for Nursing, she and her colleagues Mary Ann Swain and Evelyn Tomlin provided the profession with a more holistic perspective of patient care that supported the unique perspective of the individual. Dr. Erickson is true a visionary who contributed to the ongoing development of nursing through her practice, her education and her research," Zoeller said.
Erickson has retired from active faculty life but serves on the Board of Directors of the American Holistic Nurses Association, the American Holistic Nurses' Credentialing Corporation and of the Milton H. Erickson Foundation.