UMSN Systems, Populations and Leadership names new department chair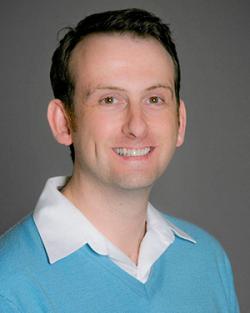 The University of Michigan School of Nursing (UMSN) announced Professor Rob Stephenson, MSc, Ph.D., will become chair of its Systems, Populations and Leadership (SPL) department effective July 1, 2018.
"We are fortunate to have a leader like this already in our midst who is ready to take on the demanding role of chair," said UMSN Dean Patricia D. Hurn, Ph.D., RN, FAAN, who appointed Stephenson to the role. "Rob is known for his openness and warm style of leadership, passion for inclusiveness, and deep commitment to the UMSN faculty, staff and students."
Stephenson joined UMSN in 2015. He currently serves as director of The Center for Sexuality and Health Disparities, and will continue to do so, in addition to his new role. He is a demographer and epidemiologist who has worked on sexual and reproductive health in dozens of countries.
"Active in the World Health Organization as one of its leading experts in reproductive health, he has already left his mark on population health in the U.S. and globally," Hurn added about Stephenson's credentials. "He also has a passion for creating structures, both organizational and financial, that promote accomplishment and assure a culture that allows trust and collegiality to flourish. He is an advocate for nursing and health care in all he does."
Stephenson replaces UMSN's Marita Titler, Ph.D., RN, FAAN, who is stepping down from her role as chair to spend more time on her scholarship and research. Titler had dedicated nearly 10 years of continuous service in administrative positions at UMSN, including her role as associate dean for practice and scholarship.
"In 2011, Dr. Titler was asked to assume the role of Department Chair for the newly formed SPL department and she steadily built that department into the successful entity that it is today," said Hurn. "She will, no doubt, follow her great talent and creativity into new areas of scholarship and accomplishment."
In addition to the renewed focus on her research, Titler will continue to direct the National Nursing Practice Network.