UMSN students and faculty represent U-M at statewide Advocacy Day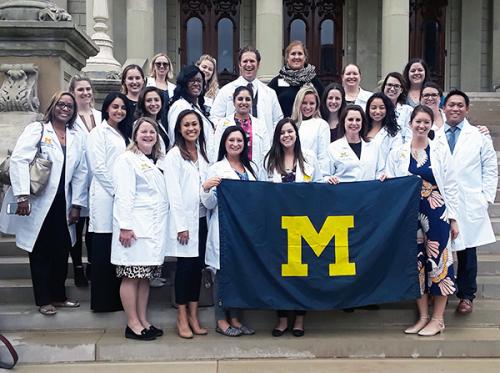 More than 250 nurse practitioners (NP) and NP/doctorate of nursing practice (DNP) students from across Michigan converged on the state capitol in Lansing for Advocacy Day. The University of Michigan School of Nursing (UMSN) was well represented with more than two dozen students and faculty members.
Organized by the Michigan Council of Nurse Practitioners, the event is an annual conference for attendees to learn about professional and patient advocacy. They meet with legislators such as state senators and representatives, as well as legislative staff members, to maintain relationships and build new partnerships. In addition, the nurses use the day as an opportunity to raise awareness about the growing role of the nursing profession.
"It was incredible to see so much passion for the NP profession and energy from our students as they engaged with legislators at the state capitol," said Elizabeth K. Kuzma, DNP, FNP-BC, UMSN's Family Nurse Practitioner program lead. "I am really proud of our students as they took their first big step into the policy arena!"