UMSN Media Report (July-Sept. 2018)
It's been a great quarter for UMSN publicity! Our faculty members were featured in high-profile news outlets, University of Michigan videos and news stories, as well as health-focused and specialty outlets.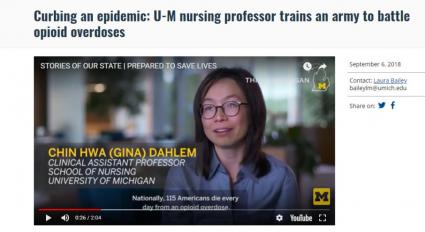 Opioid overdoses/naloxone (Dahlem)
Curbing an epidemic: U-M nursing professor trains an army to battle opioid overdoses (Michigan News) This features a terrific video that has gotten significant play on U-M channels including the main Twitter page (206k followers) and Facebook (778k followers)
MKIT sexual violence prevention app (Munro-Kramer)
MKIT developers hope app curtails sexual violence on campus  (Michigan News)
Can an app curb sexual assault on campus? University of Michigan researchers optimistic (WDIV, Ch. 4 Detroit)
Inducing labor/avoiding cesarean? (Kane Low)
Pregnancy Debate Revisited: To Induce Labor, Or Not? (NPR)
Helping Nature: Inducing Labor Avoids Cesarean for Some Moms (U. S. News and World Report) Note: This story was picked up by the AP and placed on dozens of TV and newspaper websites including The Toronto Star, San Francisco Gate and Chicago's Star Tribune.
Physician-nurse communication (Manojlovich)
Video recordings spotlight poor communication between nurses, doctors (Michigan News)
Nurses need to be direct when communicating with physicians (HealthLeaders)
Video recordings help nurses and doctors improve communication (Nursing Times)
Taping doctors and nurses reveals communication failures (Futurity)
Note: This was also picked up by the AP and placed on dozens of news websites.
STI rates increasing (Stephenson)
Rates of three STDs in US reach record high, CDC says (CNN)
Wellness Wednesday: Rising STD Rates, Alcohol Consumption, Time-Restricted Eating (NPR WOSU)
Note: Also picked up by the AP and place on dozens of news websites.
Male couples/domestic violence (Stephenson)
Male couples report as much domestic violence as straight couples (Michigan News)
Study: Nearly Half of Gay Men Face Domestic Abuse (WebMD)
Intimate partner violence is just as common in male couples (Futurity)
Almost half of gay men experience intimate partner violence (Advocate)
Many Gay Men Suffer Domestic Abuse: Study (HealthDay)
Almost half of gay male couples experience intimate partner violence, study says (Them)
Male couples experience as much domestic violence as heterosexual couples (Detroit Journalism Co-op)
Pelvic floor (Miller)
The mystery of the pelvic floor (BBC)
Social drinking (Strobbe)
When does social drinking become 'problem drinking?' (Huffington Post)
Hurricanes (Bell)
Nightmare' Hurricane Florence Poses Far-Reaching Dangers (LiveScience)
Hurricane Florence zeroes in on Carolinas (Hilltop Monitor)
Hurricanes: What's Next? (UMich Listening to Puerto Rico Teach-Out video)
Mental health/Breast cancer treatment (Smith)
Mental Health May Predict Pain Levels After Breast Cancer Treatment (Michigan Health)
Cancer fatigue (Barton)
Post-Cancer Fatigue: The Invisible Wound (Cure)