UMSN celebrates faculty, school-wide awards in empowerment and diversity
The University of Michigan School of Nursing (UMSN) was doubly honored during U-M's annual Academic Women's Caucus award ceremony for efforts to increase diversity among faculty and the advancement of women. The ceremony was held in the historic Michigan League, once the official center for women's activities on campus.
Sarah Goddard Power Award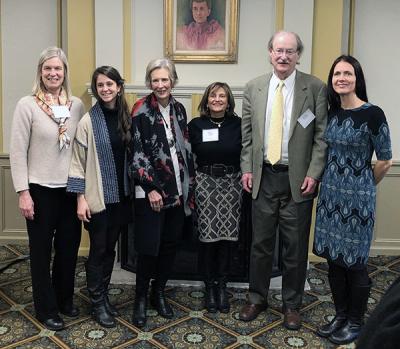 UMSN Associate Dean for Global Affairs Jody R. Lori, Ph.D., CNM, FACNM, FAAN, received the 2018-2019 Sarah Goddard Power Award which recognizes "individuals who have made significant contributions to the betterment of women through their leadership, scholarship or other ways in their professional life."
Lori, who is also a UMSN alumna, was selected for her extensive research and community work dedicated to improving maternal and newborn mortality rates in the U.S. and abroad. Her efforts include establishing maternity waiting homes in Africa to increase access to skilled health care providers for women before, during and after pregnancy.
Rada Mihalcea, a professor of computer science and engineering, was a co-winner of the award.
Rhetaugh G. Dumas Progress in Diversifying Award
The School of Nursing was honored during the ceremony in receiving the Rhetaugh G. Dumas Progress in Diversifying Award. It recognizes "outstanding institutional initiative in demonstrating notable progress by academic units in achieving ethnic, racial and gender diversity among those pursuing and achieving tenure as professors, clinical professors, research professors, and research scientists."
The award is particularly meaningful for the School of Nursing as Dumas served three terms as UMSN's dean in the 1980s and 90s. Her original appointment was significant as she was UMSN's first African American dean and first female African American dean at U-M. She also served as U-M's Executive Vice President for Health Affairs.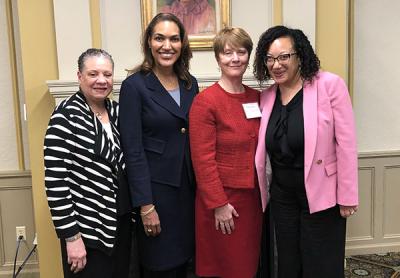 "Our school is greatly honored by receiving the Rhetaugh Dumas Award," said UMSN Dean Patricia Hurn, Ph.D., RN, FAAN.  "Dr. Dumas was a beloved dean of the UMSN and started us on the path for diversity and inclusiveness. Our passion around this remains high today. We believe that diversity makes us stronger as a profession and as a school. And we work every day to advance a culture of inclusion and respect.
UMSN was selected for the award for "its steady progress to increase diversity by race and gender among their faculty over the past two years, including at the full and associate professor ranks."
"The Rhetaugh Dumas award is great for the School of Nursing," said UMSN's Chief Inclusion Officer Rushika Patel, Ph.D.  "We've taken several steps in the right direction when it comes to diversity, equity, and inclusion, but our work doesn't stop and won't stop here."
"Many may think it a given that a discipline primarily recognized as a female-dominated field would be recognized for its successful recruitment of women faculty," said UMSN Assistant Professor Emerita Patricia W. Coleman-Burns, Ph.D., MA. "Nursing in 2019 is recognized for going beyond the 'given' to include scientists and scholars who represent women from a vast array of racial and ethnic groups and perspectives in nursing, as well as including men."
Coleman-Burns is a previous Goddard Power award winner and currently serves as co-chair of the Academic Women's Caucus which selects the recipients of both awards. Dumas holds a special place in Coleman-Burns' heart because she was hired by Dumas at UMSN in 1991 and witnessed Dumas' efforts to advocate for the advancement of underrepresented persons in nursing, and to raise the profile of nursing as a whole.
"To recognize Dumas' discipline for whom she labored diligently to see recognized for its research and administrative leadership is wonderful," said Coleman-Burns. "Dean Dumas would be so proud of the accomplishment of her colleagues, even though many never met her. As long as we speak her name her legacy remains alive."
Learn more about Dumas' legacy.