U-M visit inspires Detroit high school students to consider health care careers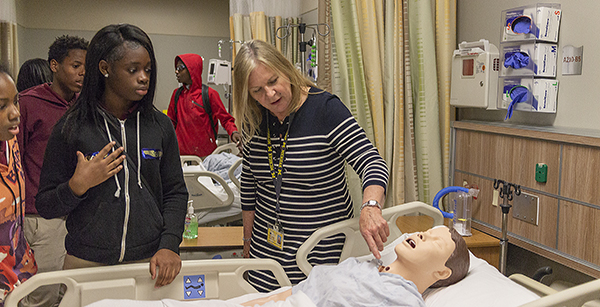 Two dozen students from Detroit's Cody Medicine and Community Health Academy were welcomed to the University of Michigan to learn about the roles of health care providers and potential career opportunities.
Hosted by the U-M School of Nursing (UMSN), the students toured UMSN's high-tech Clinical Learning Center and spoke with nursing students and faculty about the many career paths for nursing.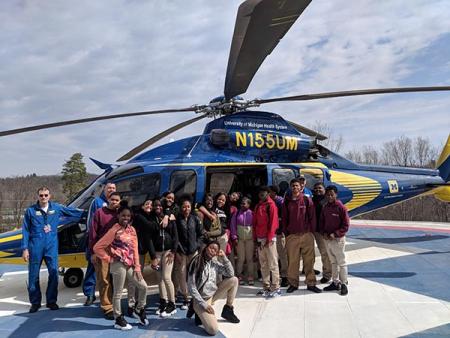 "Most people think of nurses at the bedside in hospitals," UMSN Dean Patricia Hurn told the students. "That's a big piece of what nurses do and it's important. But, nurses can also do research, they can work in communities and they can work all over the world. Nurses represent the largest number of health care providers and are considered the most trusted. That means nurses have a lot of opportunities to make a difference."
The students also went to Michigan Medicine for a visit that included a tour of the Survival Flight helicopter, and educational sessions on nutrition, fitness and physical therapy.
The visit builds on a growing partnership between UMSN, Project Healthy Schools and local schools. During the academic year, UMSN students in a community health course were assigned to Cody, and several other Detroit and Ypsilanti schools.
"I love working with high school students because they have so much potential and are eager to learn," said 2018 BSN graduate Emma Gell, one of the UMSN students who worked at Cody. "During the tour, they asked thoughtful questions throughout the day. By showing nursing as an option for anyone and a career path that provides endless opportunities, we can continue to grow the nursing profession."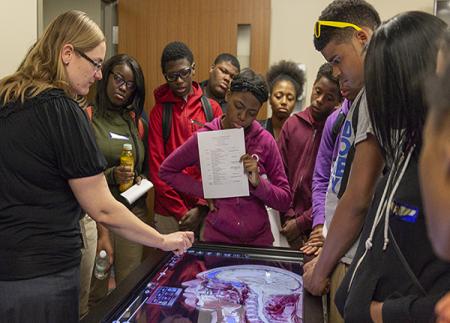 The Cody students are part of a National Academy Foundation program. They are learning communities within high school systems in high-need areas to ensure students are college and career ready through partnerships in education, business and community.
UMSN recruiters spoke with the students to give them tips on a strong college application.
"Exposure to nursing career paths at this age allows the students ample time to enroll in math and science coursework that will give them the foundation to be successful in a nursing curriculum," said Katie Martin, a UMSN recruiting coordinator. "We encourage prospective students to engage in job shadowing, volunteering, and informational interviews in order to deepen their understanding of this career path and use this knowledge to strengthen their application."
UMSN Clinical Instructor Judi Policicchio, who teaches UMSN community health courses and organized the visit, also serves on the Cody Medicine and Community Advisory Board.
"When my students started working with the Cody classes, only nine students were enrolled in each class and none wanted to become a nurse," said Policicchio. "After the first week, students started asking their principal and counselor if they could enroll in the class. After this visit, three-quarters of the class said they are interested in pursuing a career in nursing. I think this partnership will enrich both schools for years to come. "