Training school nurses to reverse opioid overdoses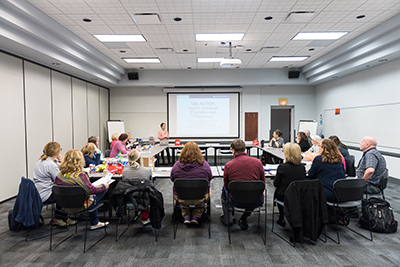 "How many of you have seen an overdose?"
In a room filled with two dozen Washtenaw County school nurses, about a quarter of them raised a hand. They work in elementary, middle and high schools throughout the county and some of the overdoses had occurred at their schools.
The nurses had gathered for a training session on how to recognize and reverse opioid overdoses. It was led by Gina Dahlem, Ph.D., FNP-C, FAANP, a clinical assistant professor at the University of Michigan School of Nursing. She has held similar training sessions for law enforcement officers and community members throughout Southeast Michigan.
An increasing need
"Rates of opioid use and overdoses are increasing in young adults in Washtenaw County and it's not just here," said Dahlem. "This epidemic sees no race, age or income. It affects every community. People are dying because they don't know how dangerous these drugs are."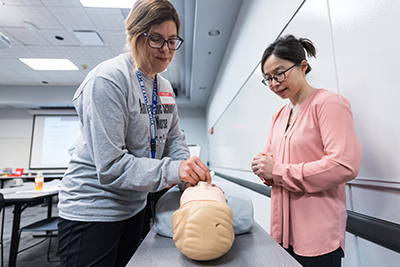 Opioids can be prescription painkillers such as oxycodone and morphine, or illegal drugs like heroin. Nearly 80 percent of people addicted to heroin started first with prescription opioids, which may have been legitimately prescribed for reasons such cancer, chronic pain, or after an injury or surgery. In overdose cases, the opioids cause the person to stop breathing, which leads to brain damage, organ failure and death.
Naloxone in the community
Naloxone is a medication that can rapidly reverse an opioid overdose. It can be injected, but the form that is growing in popularity, especially for community members, is nasal spray.
The State of Michigan recently passed legislation allowing schools to stock naloxone but it requires at least two employees in each location to be trained on how to properly administer the medication and the necessary follow-up steps. Dahlem uses a "train the trainers" approach which gives attendees the information and materials they need to go back to their offices and train their co-workers.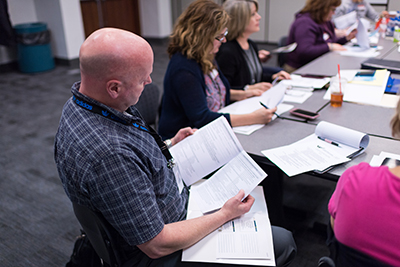 The same approach is used when she trains community members so they can train family and friends. Michigan pharmacists are permitted to dispense naloxone under a standing order issued by the State of Michigan's Chief Medical Executive Dr. Eden Wells.  Dahlem encourages anyone with a friend or family member struggling with an opioid addiction to have naloxone on hand.
She stresses that naloxone saves lives. 
"As more people are equipped with naloxone, the quicker we are able to respond to overdoses and prevent death," she said.
Dispelling myths
Dahlem has heard plenty of misinformation around naloxone use.
"People think it can encourage more drug use if naloxone is available," she said. "That's not what we're seeing in practice and in research. Naloxone can cause highly unpleasant withdrawal symptoms for those who use opioids.  Who wants to purposely negate the effects of opioids and go through terrible withdrawals?  Studies have shown that naloxone does not increase drug use, but it is associated with a self-reported decrease in drug use. Naloxone does not enable; it only allows the person to breathe."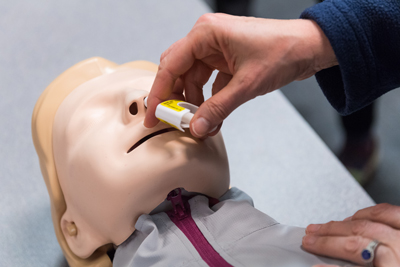 Another widespread myth is that people become violent when they are revived.
"It can happen but we are not seeing this with the naloxone formulations used in the community," she said. "Most often, they're disoriented, confused, and don't feel very good." 
Dahlem has also heard criticism about saving people who use drugs and may have even been saved by naloxone multiple times.
"You wouldn't deny someone experiencing a heart attack the use of an AED because they have underlying heart disease," she said. "Bottom line, dead people can't recover. Every life is worth saving and an overdose can be the jarring moment needed to turn someone's life around."