Professorship puts spotlight on gender-based violence
University of Michigan School of Nursing (UMSN) congratulates Assistant Professor
Michelle Munro-Kramer, Ph.D., CNM, FNP-BC
, on her selection as UMSN's Suzanne Bellinger Feetham Professor. The professorship supports the research of a promising nursing faculty member who completed a doctoral degree within the past 10 years.
Munro-Kramer's research uses an ecological perspective to design interventions related to gender-based violence including sexual violence, intimate partner violence and human trafficking. The majority of her work is with emerging adults who have experienced trauma.
"It is a great honor to be selected for the Suzanne Bellinger Feetham Professorship," said Munro-Kramer. "Throughout my time at UMSN I have gained great respect for Dr. Feetham's commitment to nursing and family health. I plan to use my time in the professorship to continue to work on the prevention of gender-based violence to mitigate the short and long-term emotional, physical and social effects of violence on individuals and their families."
Munro-Kramer helped adapt Relationship Remix, a workshop for incoming U-M freshmen to practice skills related to consent and developing healthy relationships, to the University of Cape Coast in Ghana. She also has a
partnership with U-M's Human Trafficking Clinic
. Originally established to provide legal services to survivors,
Munro-Kramer's
efforts focus on providing mental and physical health care to clients, as well as establishing a layered database to build legal cases and to better understand the comprehensive needs of survivors. In addition, Munro-Kramer has several projects to help current practitioners learn how to identify victims through a continuing education webinar and she has helped students in the health sciences learn the signs of human trafficking through a course she co-developed which gave them hands-on opportunities at the clinic.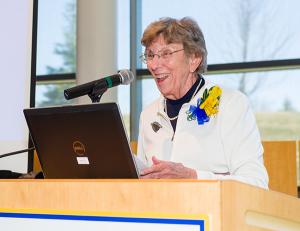 The professorship, gifted by distinguished alumna Suzanne Feetham, Ph.D., RN, FAAN, and her late husband, was created to support scholars through a sponsored program of research. Feetham is a graduate of UMSN's Class of 1962 who focused her career on bringing health care to families and underserved populations. She was named a Living Legend by the American Academy of Nursing for her efforts in academia, practice and policy. Feetham is also passionate about mentoring students and early-career researchers.
"I am pleased for this opportunity of the professorship for Munro-Kramer to advance her program of research to mitigate the short and long-term emotional, physical and social effects of violence on individuals and their families," said Feetham. "I have worked with her and know her strong commitment for research, scholarship and leadership to address a most serious public health and social challenge."
"Michelle is a great choice for this professorship," agreed
Patricia D. Hurn, Ph.D., RN, FAAN
, dean of UMSN. "Violence and trauma hugely impact biological families and families of choice, children and adults of so many different backgrounds, urban and rural. We wish Michelle every success in this honor, in her research and scholarship."