New opportunity for staff to lead research projects
A new initiative at the Center for Sexuality and Health Disparities (CSHD) gives staff members the chance to develop and lead a year-long pilot project on a focus area of their choosing. Supported by the Janet Gatherer Boyles Small Project Support Fund for Sexual and Reproductive Health, the researchers are given up to $3,000.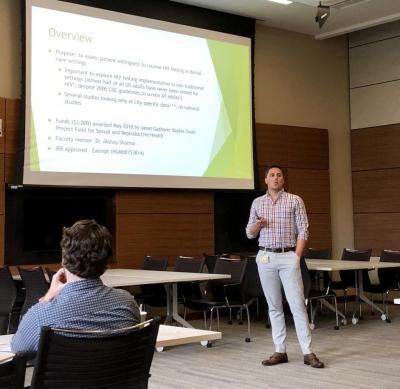 Two projects were selected for the first round of funding - "Viva," led by Project Manager Matthew Rosso, MPH, and the "Masculinity, Affirmation and Self-Conceptualization (MASCS)" study led by Research Associate Kieran Todd.
"This project is a really exciting opportunity," said Rosso. "When you work in academia, unless you have a Ph.D., you are often working on a faculty member's research so it's unusual to have your own project to lead."
"It's been great to work on a passion project," agreed Todd. "Rob [Stephenson], as director of the center, has been really supportive in finding ways for staff to develop our research skills on a project from start to finish."
Rosso's project, Viva, is evaluating the willingness of patients to receive HIV testing in dental care settings. It used a national sample of 459 people who responded to the survey via Facebook ads. Seventy-seven percent said they would be willing to use HIV testing services in a dental setting. Most said their preference would be for an oral swab test that returns results in about 20 minutes. Rosso will present his work at the American Public Health Association's Annual Meeting in November.
Todd's project, MASCS, is exploring connections between masculinity and health behaviors of transmasculine individuals.
"We know cisgender men [identity corresponds with birth sex] who adopt traditional masculinity are less likely to go see the doctor, which can be very harmful," explained Todd. "We wanted to know if the same was true for transmasculine people because they weren't necessarily socialized with masculine behaviors and how that impacts health behaviors."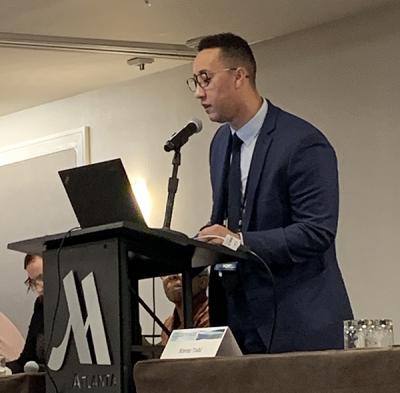 MASCS participants were recruited for semi-structured interviews through community organization social media channels. Todd said he was pleased to get a diverse sample of participants including people of color and older adults who are often underrepresented in transgender research.
Todd says preliminary results show black transgender men felt less comfortable participating in outdoor health-focused behaviors, such as running, compared to white participants. In addition, he found higher than average rates of eating disorders as well as spikes in alcohol and tobacco use in the time leading up to transitions, although they decreased as people felt more comfortable in their identities. Todd, who is trans-masculine, says he hopes this type of research will help inform how practitioners care for transgender patients.
"This is the first time we've had projects like these led by staff," said Gregory Sallabank, manager of the CSHD which is based at the University of Michigan School of Nursing. "We really weren't sure what the results would be but we have been really impressed with the work Matthew and Kieran have done with their funding."
While the staff members are leading the project, they do have CSHD faculty mentors. Todd is paired with Research Fellow Sarah Peitzmeier, Ph.D., MSPH. He says the experience has led to planning for future collaborations. Rosso is working with Assistant Professor Akshay Sharma, Ph.D., MBBS, MPH.
"The mentoring aspect is a huge benefit of the project," said Rosso. "Akshay excels at statistics, which is something I haven't had a lot of experience with. I've learned so much from him."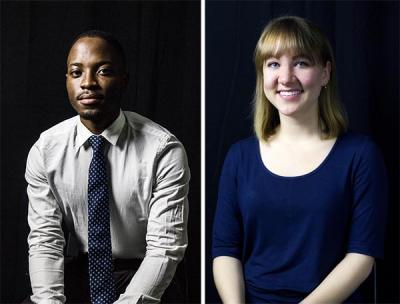 CSHD leadership recently announced a second round of projects. Erin Rogers, MPH, will lead a study on the sexual and reproductive health of women seeking treatment for opioid use disorder, with a specific focus on the influence of their intimate partners. Her faculty mentor will be Assistant Professor Yasamin Kusunoki, Ph.D., MPH.
Tanaka Chavanduka, MPH, will examine activities young men engage in across digital platforms that influence their sexual health outcomes, working with CSHD Center Director Rob Stephenson, Ph.D. The project will identify interactions and activities that may lead to sexual experiences, measure the combinations of social media use in relation to sexual risk and prevention behaviors, and examine other determinants for sexual risk taking through technology.
"I am passionate about helping to create the next generation of scientists" said Stephenson. "These small grants give staff the opportunity to learn valuable research skills and to experience what it is like to conceptualize and plan their own studies. I am amazed by their results, a real reflection of the high quality of research staff we have here in the center."