New oncology safety program offers unparalleled training for clinicians (with video)
ANN ARBOR, Mich. — Cancer care is growing increasingly complicated as new therapies and protocols emerge at a rapid pace, putting patients and clinicians at risk when safety measures do not keep pace with these rapid developments.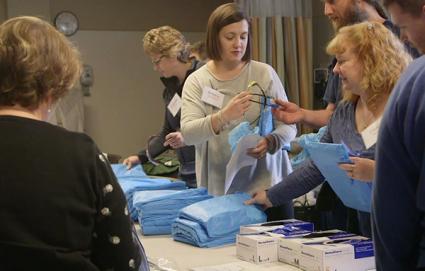 "We're seeing new treatments and new treatment combinations literally every week," said Christopher R. Friese, Ph.D., RN, AOCN®, FAAN, the University of Michigan School of Nursing's (UMSN) Elizabeth Tone Hosmer Professor of Nursing. "There's a lot to keep on top of and our cancer centers are busy. Resources are tight. It's a high-volume, high-pressure environment which makes it very difficult to get thoughtful, careful training in optimal safety techniques."
A new program at the University of Michigan, funded by the National Cancer Institute, aims to improve the safety of cancer care delivery. The Multi-professional Oncology Safety Simulation and Training (MOSST) program is a free, one-day workshop for nurses and pharmacists with subsequent resources. Topics include safer hazardous drug handling, supporting patients on oral cancer drugs, hypersensitivity reactions, sepsis, complications of newer cancer therapies, and extravasation management.
"Nurses and pharmacists play an important role in the delivery of chemotherapy and the ongoing management," said Friese, who serves as director of MOSST. "They are on front lines of detecting potential safety problems for the patient and the staff."
The workshop is led by Friese and other internationally-renowned experts in cancer care delivery, patient safety, oncology education and professional practice. The workshop also includes hands-on training in UMSN's high-tech Clinical Learning Center.
"The opportunity for simulation training is a real strength of the program," said Friese. "It's a dominant force for teaching current students but many practicing clinicians have not had that experience. It's novel way to try out new skills in a safe environment."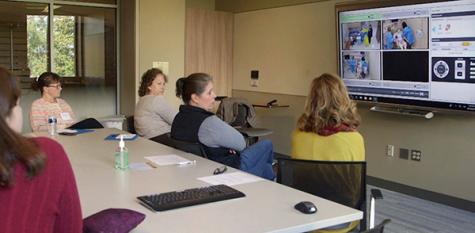 More than 50 nurses and pharmacists from around the country participated in the first MOSST workshop, which was held in October 2018. While not required, the program encourages a nurse and pharmacist from the same institution to train together.
"It's so difficult in our day-to-day environment to learn together," said Friese. "This is a way to share how similar problems are addressed in different oncology settings. The opportunity to network and learn, not just from our content, but from each other is a real strength."
Friese, who is also a member of U-M's Rogel Cancer Center and Institute for Healthcare Policy and Innovation, says they are looking ahead for opportunities to include other clinicians, as well as adjusting future workshops based on participant feedback.
"One area in particular that we are strengthening, is the focus on the oral cancer drugs that are being increasingly used," said Friese. "Our knowledge continues to evolve and workshop participants will continue to receive updates and resources as we learn more about these new therapies."
MOSST is accepting applications now for workshops in April and October 2019. Additional workshops will be held over the next four years and will be posted on the project website.