Faculty impact: UMSN alumna embraces innovation to challenge the patient care status quo

Dana Tschannen was an early-career nurse working in an intensive care unit (ICU) when she found she had a hard time leaving work at work.
"I would consistently come home from a shift and wonder if we should have handled a situation differently, or if we really did the right thing for a particular patient," she explained. "In an ICU, you see a lot of disparity, hardships and complexity. I started to consider ways we could be more effective in providing optimal care for our patients and families. I became focused on thinking about systems and quality improvement."
Nursing and U-M foundation
Tschannen is one of those people who always knew she would be a nurse.
"Two of my aunts are nurses," she said. "I grew up listening to them talk about their work and it always fascinated me. Also, I've always had an innate feeling of wanting to help. I ran towards rather than away from disasters."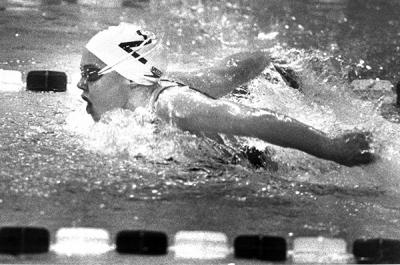 Selecting the University of Michigan School of Nursing (UMSN) for her nursing education was an easy choice for Tschannen. She wanted to be in a highly-ranked nursing program that admitted students as freshmen and she wanted to continue competitive swimming. Combining an intensive academic program and Big Ten athletics would not be an easy task, but Tschannen was determined.
"I think I was the first swimmer in the nursing program at U-M," said Tschannen, who became an All-American and would help lead the Wolverines to three Big Ten titles and a second place finish at NCAA Championships. "Managing the requirements for academics and athletics was difficult but I had a lot of support. My faculty were really good about identifying a plan for me and my coach was flexible with my schedule. It didn't matter when I got in the water, as long as I completed the workout."
That flexibility and willingness to take an unconventional approach in order to accomplish Tschannen's goals would become part of the foundation representing her drive to improve situations through creative solutions.
Next steps
After graduation, Tschannen embraced the dynamic environment of Michigan Medicine's medical ICU, but it wasn't long before those nagging questions prompted her to look at ways of improving outcomes beyond individual patients.
"When I look at the future of nursing, I foresee a greater focus on systems and populations," she explained. "How can we use innovative strategies and technology to improve care and access for populations? How can we improve systems to better meet the needs of patients and families? We need more nurses who are ready to step away from the status quo because we've done things a certain way for years, and identify innovative ways to make care more efficient, affordable, accessible and effective."
Tschannen returned to UMSN for a master's degree and then a Ph.D. to increase her ability to make population and system-level improvements in health care delivery.
Finding solutions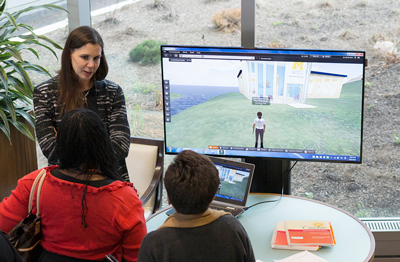 Now as a UMSN clinical associate professor, Tschannen is combining her practice, education and scholarship to test and advance processes and technology aimed at improving patient outcomes.
"It takes 10-17 years to get research evidence into practice," she explained. "I'm hoping to help nurses minimize that gap. Part of my role is working with nursing leaders and staff nurses on implementing and evaluating evidence-based practice and quality improvement initiatives. Nurses at the bedside are at the forefront for translating research into practice in a very meaningful and practical way. It has been a pleasure to work with many clinical experts who strive to see evidence being integrated into all aspects of nursing care."
Tschannen is also committed to using patient data in more meaningful ways.
"Nurses spend so much time documenting information," she said. "How can we use it beyond that individual patient to identify patterns among different populations?"
Tschannen points to her focus area on preventing pressure injuries, commonly known as pressure ulcers or bed sores, which can be common in bedridden, elderly and severely ill patients. 
"I'm looking at how we can use large data sets to create a predictive model for patients at risk for pressure injuries during hospitalization. We've got a lot more opportunities to understand intricacies of disease processes and the effectiveness of nursing interventions with the use of big data."
Developing nursing leaders
While many large organizations, like health systems, have difficulty in embracing change, Tschannen firmly believes improving care is worth the effort. It's a message she works to instill in nursing students through her roles as faculty in UMSN's Department of Systems, Populations and Leadership (SPL), and director of the Post-Master's Doctor of Nursing Practice (DNP) program.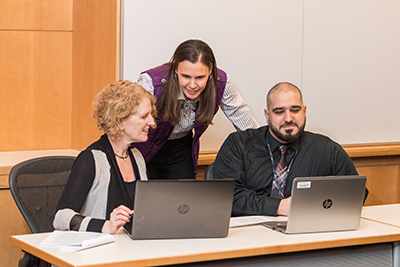 "Not all of them want to be nurse executives, but the skills that they develop will make them successful leading in any position or setting," she said.
Tschannen also finds inspiration in the students.
"I love when our students question the current state and how we can improve care processes," she said. "When we talk about a concept, it's great to hear how they're able to apply it to their respective work settings. I learn as much from them as I hope they do from me."
Just as Tschannen's education and support from mentors helped position her to take on important challenges, she's now doing the same for current students. It may not have been part of her original plan, but she's embraced her role in setting UMSN students on their own journeys to find innovative solutions to pressing health care problems. 
"Our SPL students are doing some phenomenal work through their immersion/residency experiences and DNP evidence-based practice projects," she said. "They're impacting practice in significant ways and will truly change the world."