Facilitators of UMSN: Listron Mannix
At the University of Michigan School of Nursing we believe that success is a collective endeavor. We celebrate the unique talent and drive that propels our students and faculty to achieve as scholars as we recognize the skilled network of staff who support them along the way.
"Facilitators of UMSN" is a series that will spotlight some of the 118 staff members at UMSN who use their expertise to help members of the UMSN community work toward their goals as scholars, educators, and nurses. We hope you learn more about these talented and dedicated people through this series.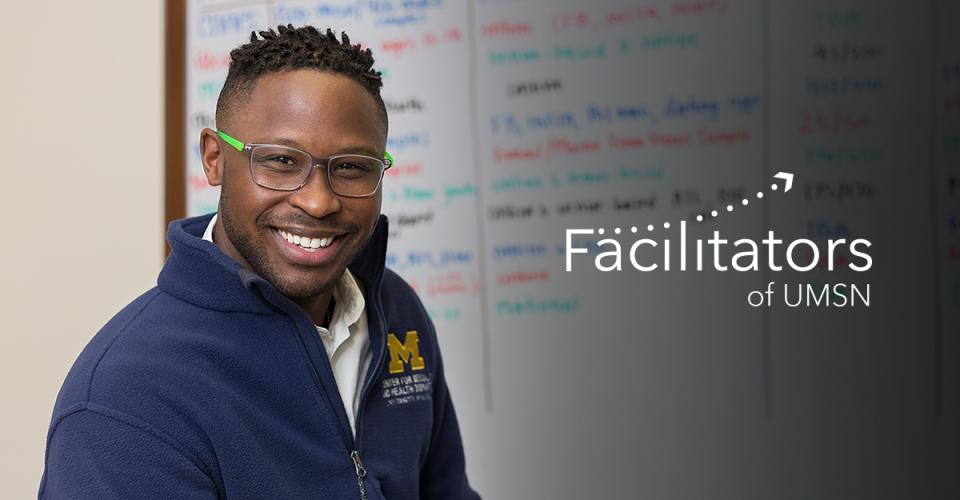 UMSN Facilitator: Listron Mannix
Research project manager
Hometown: Fort Lauderdale, FL
Joined UMSN in April 2017 
In your role as the center's manager, what are your regular responsibilities to keep things moving forward?
My center manager responsibilities are on the operational side. Our center director, Rob Stephenson, is in charge of the research. I make sure our staff and faculty have the support they need for their work. My job involves working with HR, onboarding new employees, developing and implementing new policies, managing conflict resolution and making sure our team is aware of diversity, equity and inclusion (DEI) initiatives and implementing them.

What are you working on as a project manager?
The Couples Health and Attitude on Prevention Study (CHAPS), is examining factors that influence HIV prevention, like relationships, social networks and your community, among male couples in the United States. The goal is to use the findings to develop effective HIV prevention messaging. I am also excited to work on other upcoming projects so I can continue to develop my research skills.

You've been here about a year and, in the research world, that's generally not enough time for a start-to-finish project, but what are some of the end results you are working on?
You are absolutely right, my time at the center hasn't been long enough to experience a project from start-to-finish. In my previous employment I had the opportunity to be hands-on with finished projects, such as interventions and using study outcomes for presentations. The opportunity to work at The Center for Sexuality and Health Disparities, I feel, will give me the well-rounded experience I am seeking to better understand the inception of research and working on CHAPS has already begun that process. The end results will be analyzing the data from my online study and determining how it can create an impact and possible change in prevention efforts for male couples. 
 
How did you get involved in this sort of work?
At the age of 10, I knew I wanted to be a sex therapist. While attending high school in Antigua, I had the opportunity to volunteer as a co-leader for a peer education group. It was part of a health initiative developed by the Ministry of Health focused on youth sexual health, and from there it blossomed. After I graduated, and finally made the move back to the U.S., I started college and worked as a youth peer health educator and HIV testing counselor. I'm a social worker at heart. That's what I trained as.

Ten is pretty young to think about that kind of work. Did your parents work in the field? 
Nope, my mom is an entrepreneur and owned several businesses. My dad is a personal chef. When I told them that's what I wanted to do, they said 'yeah right,' but I've always found it really interesting and against their disbelief, I've found a good place in focusing on prevention issues and working with couples in a therapeutic setting.

Earlier, you mentioned DEI. Can you explain a little more about DEI's role at the center and how UMSN's efforts to improve culture play a role in your work?
I want every staff person to feel like this is their place, their second home. We're here 8, 9, 10 hours a day. When I started, there was feedback that people felt like they were working in silos, so one goal is making us feel more like a team. It's been a learning experience for me too. Coming from community-based work, I realized how we interacted with each other is different than how it's done in academia.  We started having monthly activities like a chips and dips party, bowling, brown bags and ice skating, which ties in well with one of my other roles as our center's MHealthy Champion. We've got more to do but I think we're making progress.