Excelling in art while pursuing nursing: UMSN freshman Kaylee Yang wins art competition

Almost as a rule, nursing students are busy people with demanding course loads. Nonetheless, many at the University of Michigan School of Nursing (UMSN) find ways to get involved in activities outside of their classes.
Art and nursing, a perfect match
Kaylee Yang, a freshman from Canton, Michigan, was drawn to nursing as a way to find satisfaction in a career.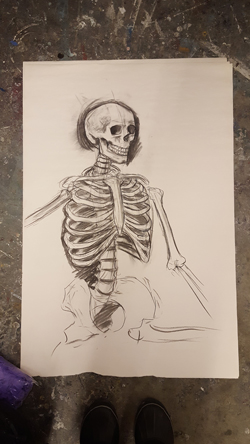 "I figured this was one of the most rewarding jobs there is out there," Yang said. "You can see the immediate effects of what you do. I feel like I can really give back to my community and make a difference."
With strength and interests in biology and medicine during high school, nursing was a good match for her. At the same time, art, specifically drawing, has always been her passion.
After she learned to draw skeletons in an anatomy-based life drawing class, she thought there might be a way to combine them.
"I thought about doing medical illustrations," Yang said. 
Drawing may yet play a role in her future career. She sees why art therapy could be beneficial for some patients.
"I definitely agree with art being a therapy. It's definitely relaxing, and it's how I de-stress," she said.
As I See It Award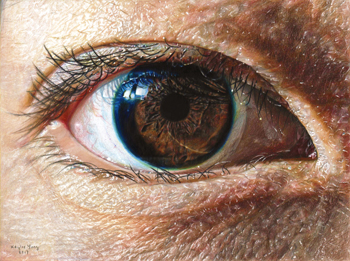 Yang's drawing skills were recognized across U-M's campus. She received first place in the November 2017 drawing competition "As I see it" for her drawing of her own eye, titled "Pride."
The competition is organized by Arts at Michigan, a place for students to come together over the arts, and winners are decided by popular vote.
Her photographic-like pieces are the result of a compilation process. Without special training beyond her high school art classes, Yang comes up with an idea of what she wants to draw, and then finds images that match her idea.
"I take multiple pictures and put them together, sometimes using photoshop if it's complicated. Then I draw them as I want them to fit together."
"The one I'm working on now is a bear. So the bear was one picture, the fish a different picture, and the background itself was a different picture."
Staying involved
Even with limited time, Yang still makes a point to spend several hours a month on her own artwork, outside of her art class and nursing classes.
"I've been into art since about seventh grade. I don't want to lose this passion that I have so I found ways to stay involved," Yang said.  
Yang found the Arts at Michigan As I See It competition while browsing for art programs for non-art majors at the university. She also joined a student organization, Redefine.
"We promote social justice through the arts," Yang explained.
Cross-campus art scene
Putting on art exhibitions to raise awareness, Redefine did a show called "Shift" in November 2017. Connected to the diversity, equity and inclusion efforts that have exploded on campus, the group chose the theme "the immigrant experience" for their fall show.
"I learned so much," Yang said. 
"People brought in their artwork about immigrant experiences and there were performances as well, like singing, dancing, and spoken word," she explained.
Currently, the organization is working on an exhibition for Arab Xpressions, a cultural showcase presented by the Arab Student Association.
"The Arab Student Association invited us to work with them to organize the gallery part of the show, which will be in the Power Center, which is really exciting," Yang said.  
"In addition, we're coordinating our own spring showcase for everyone in the organization to show what they are working on."
Yang imagines continuing with Redefine throughout her time at Michigan.
"It's really rewarding to see different perspectives through the topics of our exhibitions."
Future directions
Kaylee Yang hopes to go into family practice as a nurse practitioner.
She is a Sue Hodge Merigan scholarship recipient.