Congratulations to Sigma Rho Chapter award winners and new members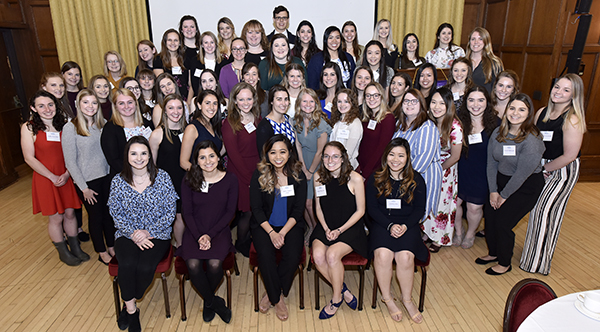 The Rho Chapter of Sigma, nursing's only international honor society, is celebrating the induction of its largest class to date. On March 31, 2019, 112 new members were welcomed into the organization during a ceremony at the Michigan League.
Members are selected for high academic performance and a demonstrated commitment to leadership and service. Traditionally, students are not selected until their junior or senior year of nursing school.
In addition to the induction of new members, the annual ceremony also honors excellence in nursing through awards for education, practice and leadership. 
2019 Award Winners
Excellence in Nursing Education: Diane Asher, MS, RN, FNP-BC and Michelle Pardee, DNP, RN, FNP-BC
Excellence in Nursing Practice: Lisa Ryan, MSN, RN
Student Leadership: undergraduate students Katelyn Scudder and Merideth Freiheit
Jean Anne Laing Drickamer Student Mentorship Award: undergraduate students Katie Burmester and Breanna Keeney
Rho Chapter maintains several grants to support members' scholarship. This year's recipients are:
Nursing Research Grant Awards to support research and evidence-based practice projects: Kristen Choi, Ph.D., RN, and Suzanne Knight, DNP, RN
Travel Grants to support conference travel:  John Knight, DNPc, RN, and Dana Beck, Ph.D.c, RN
Ketefian Grant to support membership dues for international students:  Xinyi Chen
Rho Chapter was chartered June 8, 1959, as the 16th chapter of Sigma and the second chapter in the State of Michigan. More than 4,500 members have been inducted making it one of the largest chapters. Internationally, Sigma has more than 250,000 members representing more than 70 countries.
Photos
See more photos on the UMSN Facebook page.