Nursing student insight: DNP at University of Michigan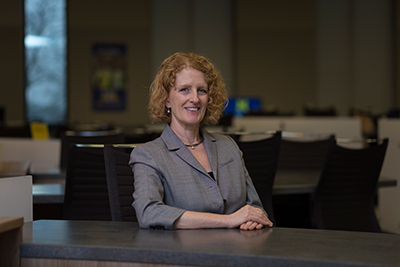 Meet Suzanne Knight
Doctor of nursing practice (DNP) student at the University of Michigan School of Nursing.
Works full-time in nursing professional development while pursuing her DNP.
Area of focus is system-wide education and development.
On track to graduate in 2018.
Her inspiration
"I was inspired to become a nurse in the late 1980s when I learned about the AIDS epidemic. My first career was in ballet and I knew people in the dance community who were being impacted. People were not getting the health care they needed because they were a marginalized group and people were afraid. I knew I wanted to help them and provide care to those who were not getting access to the compassionate care they needed."
Systems focused
Knight currently works in Nursing Professional Development & Education at Michigan Medicine. The work inspired her interest in system-level improvements and her director encouraged her to pursue a DNP.
"We're a central function for the health system and we get to be involved in a lot of different things. We lead programs such as orientation, new equipment deployment, on-unit simulation and leadership development. I love professional development and education, and the opportunity to develop others and work with amazing nurses.
I chose the DNP, not to change jobs, but to enhance my effectiveness in my current role. I had a strong foundation from my master's program but wanted to take the process of creating, implementing and evaluating a program to a new level, including leading the process.  The DNP program has really helped me grow as a leader."
Making it work: Juggling work and school at U-M
"It's hard and it does mean giving up a lot of free time, but it is worth the time and effort! The program is flexible enough that you can take just one class a semester if you need to, or you can take a heavier load when you have more time. It is a big commitment but you are developing yourself and creating new opportunities to learn and advance your career."
The DNP project
The DNP program requires a capstone project prior to graduation. Knight is working on a project to improve pediatric transitions of care from hospital to homecare. She focused on patients who need ongoing care from Michigan Visiting Nurses. Knight, in partnership with the nurses and family advisors, created a videoconference handoff for the patients, families and members of the care team. It generally takes place the day before discharge to allow for proper coordination in the transition to homecare.
"Sometimes parents are asked to manage very complex care at home, like placing an NG (nasogastric) tube. It can be a very stressful time for the parents and caregivers. This handoff gives them time to ask questions, meet the nurse who will be coming to their home and discuss what resources they'll need when they leave the hospital. The nurses also meet each other and are able to coordinate the patient's care. It's important to look for ways we can use technology to improve access and the quality of patient care. We are getting really positive feedback that this is helpful to the patients/families and nurses."
What's next for the project?
While DNP students are not required to continue their project beyond the requirements for graduation, many, including Knight, want to advance the work.
"I'm really excited about the feedback so far. The videoconference handoff is feasible and improves communication and coordination of care between settings. I'd like to do a larger pilot, expanding our sample and evaluating outcomes such as readmissions and patient safety to see how we can improve patient care. "
Why she chose to pursue a DNP
Knight says she was inspired to pursue a DNP because of the possibilities to create change and improve patient care.
"Nurses must be a part of planning what healthcare will look like in the future. We need to bring our voice to the table and make sure we are providing safe, effective, patient-centered care. There are so many opportunities for nurses to take what we've learned in the DNP program, and our system perspective, and make a significant impact in healthcare. The health system really benefits from having the perspective and expertise of DNPs."
Who do you think would make a good candidate for UMSN's DNP program?
"I'm always encouraging other nurses to think about getting their DNP, especially those who are passionate about being a leader. It involves being open-minded, willing to think differently, excited about sharing ideas and being part of a positive, productive learning environment. If you are curious, enjoy leading change, being innovative, and developing others, then a DNP could be the right path for you. The key is that you are passionate about having a positive impact on the future of nursing and healthcare."