Island view: UMSN senior has a perspective unlike any other and a passion for health care at home and abroad

A tale of two islands
Ten years ago, University of Michigan School of Nursing (UMSN) undergraduate student Rhodene Mullings (senior), immigrated from Jamaica to Mackinac Island, Michigan. One of only two students in her graduating high school class of ten to land at the University of Michigan, Mullings completed a BA in Literature, Sciences, and the Arts (LSA) focusing on anthropology with a minor in medical anthropology.
Yet it was nursing that she had her heart set on as a career, and in April she expects to complete her BSN, with a minor in global nursing.
"I want to do global nursing," said Mullings. "That is my passion. I'm from Jamaica and I've seen how people die from lack of resources and lack of education."
"Medical anthropology was the stepping stone for me to learn about the role of women in different cultures, and about prenatal care and sexual health," she explained. "It gives me an outline of how important culture is in people's lives."
A family affair
Mullings had plenty of experience with health care as a child.
"Growing up I was very ill as a child," she remembered. "When I was in the hospital I really appreciated the nurses, because they were caring and comforting, and it made me want to be like that in my career."
She was caretaker as well as patient while growing up.
"My great grandmother was sick and blind, and I was always the one taking care of her when I was younger," Mullings said. "Then recently my grandmother had cancer, and I took care of her. I went through all of her treatments with her, explaining everything to her along throughout the process. And if it wasn't for Michigan Medicine and the Frankel Cancer Center, she would not be alive."
Discovering her grandmother's illness was perhaps Mullings' first 'diagnosis.'
"My grandmother was crying in pain," she said.  "I was a sophomore at UMSN so I didn't really know much but I was listening to the symptoms she was describing and thinking, that doesn't sound right. So we brought her to Michigan's emergency room, and found she had colon cancer."
Mullings was the only person in her family living in the Ann Arbor area. Her grandmother moved in with her to be close to doctors' appointments at the Frankel Cancer Center. It was hard to manage caring for her grandmother and keeping up at school, and Mullings started to miss classes. Her professors could tell something was wrong.
"The school gave me the option to take a break and come back, so I took a year off of school to care for her," Mullings said.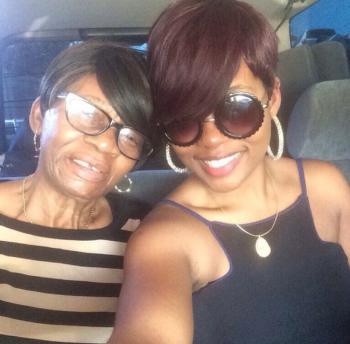 "That was the best decision I ever made, and now she is cancer-free!"
An extra year, extra opportunities
With her grandmother's return to health, Mullings could again focus on her academics and involvement in student life.
Mullings traveled to Ethiopia to work on two separate projects (developing an interdisciplinary clinic for human trafficking survivors and researching how patients seek treatment for sexually transmitted infections funded by the Minority Health and Health Disparities International Research Training (MHIRT) Program) last summer, both focused on women's and sexual health. She also traveled to Mexico and London on nursing-affiliated programs.
She received a scholarship from the Mary Free Bed Rehabilitation Center in Grand Rapids, MI, two years in a row (2016-17 and 2017-18), and in summer 2017, she received a competitive student nurse externship at Michigan Medicine, where she shadowed nurses in emergency, critical care, and step-down care units.
Mullings also served as president of the GENESIS student organization in 2016-17. GENESIS (Gaining Excellence in Nursing Education: Strength in the Sciences) was a UMSN program designed to prepare students for careers in health sciences. It had a student corollary, the GENESIS student organization, for current students who went through the GENESIS curriculum as admitted students. Neither GENESIS nor the student organization is active, but she credits the organization with being a supportive force for diversity at the school.
Under her leadership, GENESIS focused on the internal UMSN community.
"Just with the small amount of diversity that we have at UMSN, we wanted to provide support and leadership and guidance—that was the main goal," Mullings explained.   
The group forged a supportive environment for its members by getting involved in the larger community.
"I'm so grateful for all these other opportunities that have come after my grandmother's cancer," Mullings said.
Counting her blessings
Travel has provided Mullings perspective on and appreciation for her own privilege. 
"Going to other countries makes me feel like I really am living the American dream. It reminds me how appreciative I should be of my life in this country and how privileged I am. It has given me a different perspective of my future," Mullings said.  
It has also prepared her for a future in which she can give back. She plans to start her career in emergency care nursing, then return to school for a master's in nursing and a master's in public health. This will prepare her to pursue global nursing, including in her native Jamaica.
"We have great health care systems in this country, like documentation and sterility," Mullings said. "We might not have them applied evenly everywhere, but we do have them."