University of Michigan School of Nursing professor appointed to federal accountability office
ANN ARBOR, MI – The U.S. Government Accountability Office (GAO) appointed Christopher Friese, Ph.D., RN, AOCN®, FAAN, to serve as a member of the Governing Board of the Patient-Centered Outcomes Research Institute (PCORI).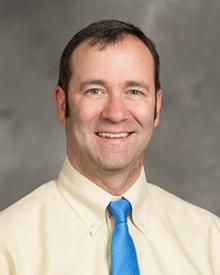 GAO is an independent, nonpartisan agency that investigates how the federal government spends taxpayer dollars. It oversees the appointment of half a dozen health care advisory committees, including PCORI's governing board.
PCORI's mandate is "to improve the quality and relevance of evidence available to help patients, caregivers, clinicians, employers, insurers, and policy makers make better-informed health decisions." The organization has funded hundreds of research projects worth more than two billion dollars. The PCORI board represents various health care stakeholders including patients, researchers, clinicians, insurance organizations, and government agencies.
"I am honored to serve as a member of the PCORI board," said Friese. "I have committed my clinical and research career to improving outcomes for patients and their loved ones. Serving in this capacity enables me to bring my clinical and research skills to a diverse table that is poised to write a new chapter in patient-centered outcomes research."
Friese is the Elizabeth Tone Hosmer Professor at the University of Michigan School of Nursing (UMSN), Professor of Health Management and Policy at U-M's School of Public Health, director of the Center for Improving Patient and Population health, and a member of U-M's Institute for Healthcare Policy & Innovation and Rogel Cancer Center.
He has an extensive program of research focused on improving health care delivery in high-risk settings, with an emphasis on cancer care. He also recently completed a Robert Wood Johnson Health Policy fellowship. Based in Washington, D.C., the intensive non-partisan fellowship connects health and science leaders, think tank and interest groups, constituents and government officials to improve knowledge and capabilities around policy in order to make improvements at local, state and national levels.
Friese's appointment was supported by leading nursing organizations including the American Association of Colleges of Nursing (AACN), American Academy of Nursing, American Nurses Association, the Oncology Nursing Society, the National Organization of Nurse Practitioner Faculties, and the American Organization of Nurse Executives.
"We congratulate Dr. Friese on his appointment to the PCORI Board of Governors. As a nurse scientist with extensive expertise in improving quality of care in high-risks settings, he is an exceptional addition to help carry out the vital mission of PCORI," said Dr. Deborah Trautman, President and Chief Executive Officer of the American Association of Colleges of Nursing. "AACN was honored to nominate Dr. Friese in collaboration with our nursing and healthcare partners. His placement directly represents the power of nursing expertise at the tables where interprofessional collaboration matters most. Dr. Friese will champion the voice of the patient and their families to ensure national research priorities reflect the concerns of the public."