Student spotlight: From the Navy to nursing school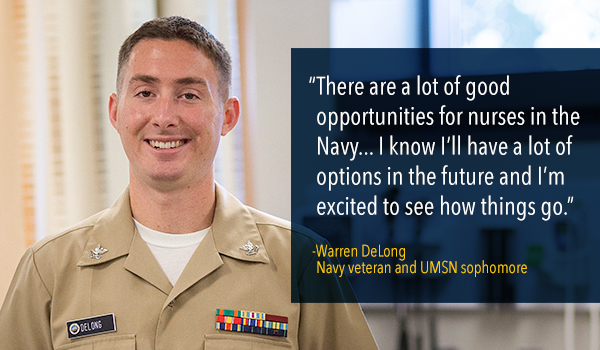 Many students can relate to Warren DeLong's dilemma as he approached his high school graduation. He wasn't sure what he wanted his career to be and didn't want to take on the cost of higher education until he figured out his path. The one thing he was sure of is that he wanted to be of service to his community. DeLong made a choice to enlist in the U.S. Navy.
"I knew I wouldn't regret military service," said DeLong, a Grand Ledge, MI native. "I wanted to see the world and get real-life experience before deciding on a career."
In the Navy
DeLong did have to make an early decision about his role within the Navy. He chose to be a Hospital Corpsman.
"It was that or being a cook on a submarine," DeLong said with a laugh. "I didn't want to be on a sub."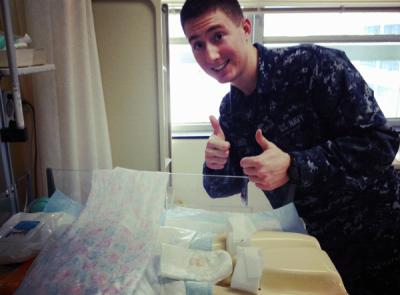 Hospital Corpsmen cover a wide variety of health-focused duties from deployment in active combat zones with Marines to working in primary care clinics. DeLong's first duty assignment was a military hospital in Japan where he served on labor and delivery and post-partum units.
DeLong spent two years working closely with nurses to provide care to newborn military dependents and their mothers.
"It was really rewarding to provide care to new parents," says DeLong. "There are thousands of Marines, Airmen, Soldiers, and Sailors on Okinawa and their families are stationed there too. We had about 100 deliveries a month. It was always busy."
During his time in the Navy, DeLong earned a host of certifications including Advanced Cardiac Life Support, Pediatric Advanced Life Support, Neonatal Resuscitation, and Basic Life Support Instructor. 
But, it was his time in the labor and delivery unit that made DeLong think about a career he hadn't previously considered.
"The nurses told me I would make a great nurse," he said. "I thought about it and realized I really enjoyed what I was doing. There were a lot of male corpsmen who worked in labor and delivery and some of them didn't like it, but I did. The nurses gave us a lot of freedom and if you want to learn, they were always willing to teach you."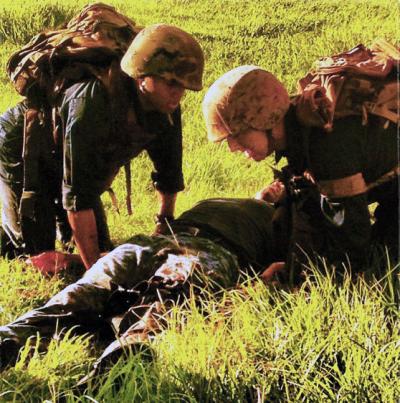 After two years in Okinawa, DeLong's next assignment was a medical clerical position at a submarine base in Connecticut where he reviewed medical records for conditions that could disqualify a Sailor for service aboard submarines. He also got hands-on patient experience through administering vaccines, taking vital signs, wound packing and cryotherapy.
The transition to nursing school
DeLong, already a University of Michigan fan, started looking ahead to the U-M School of Nursing (UMSN).
"I knew it was a really good school and had high NCLEX [board licensure] rates," he said. "So, I started taking classes one at a time and geared them towards U-M prerequisites."
DeLong's strategy paid off. DeLong was accepted to USMN with enough credits to begin as a sophomore in the Fall 2017 semester.
"This is my first real experience with a full load of classes," he said. "I love it but it's definitely different."
Integrating school and service
But DeLong hasn't left the military behind. For his first clinical placement, he was assigned to the Veterans Affairs Ann Arbor Healthcare System. The placement was random, but DeLong said he's grateful for the opportunity to learn about the care of fellow veterans. In addition, he's a drilling reservist which means he's committed to one weekend of service each month and is available for recall to active duty status. Furthermore, he's a member of U-M's Student Veteran Association.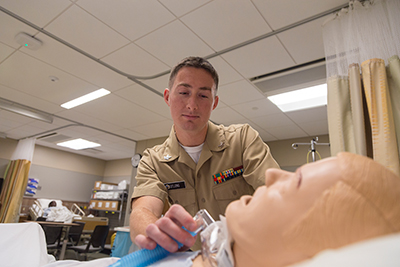 DeLong also uses his EMT certification to work on a part-time basis for a local ambulance company. That experience has made emergency medicine, along with intensive care, potential focus areas for his future career. But, DeLong says right now he's keeping an open mind.
"I don't want to rule anything out," he said. "I think I'm calm when things go bad and have a good sense of reason in crazy situations, so that's why I'm thinking about emergency medicine. But there is so much I haven't seen or done yet."
Whatever he decides, DeLong thinks there's a good chance he will return to the Navy after he earns his nursing degree.
"There are a lot of good opportunities for nurses in the Navy," he said. "I think grad school could eventually be a possibility too. I need to focus on school right now, but I know I'll have a lot of options in the future and I'm excited to see how things go."