UMSN faculty earns grant to study depression in Arab American women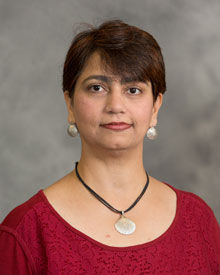 Nadia Ali Muhammad Ali Charania, Ph.D., RN, a University of Michigan School of Nursing Clinical Assistant Professor, received a grant from the American Psychiatric Nurses Association (APNA).
Charania's project, "Arab American Women with Recurrent Depression: Self-management Strategies and Social Determinants," builds on her previous work focused on management of recurrent depression. Charania will examine social determinants of mental health such as neighborhood composition and social support. In addition, Charania will utilize a newly created instrument, the Self-management Strategies Scale for Depression (SMSS-D).
"My key interest is in how women from various cultures manage their depression, particularly what strategies women use to self-manage their depression," said Charania. "Such knowledge and understanding of self-management strategies will promote delivery of culturally appropriate, gender-based mental health care."
UMSN Associate Dean of Undergraduate Studies Bonnie Hagerty, Ph.D., RN, and Clinical Instructor Melissa Bathish, Ph.D., RN, CPNP-PC, will work as co-investigators on the grant.