UMSN undergrad earns grant to help local seniors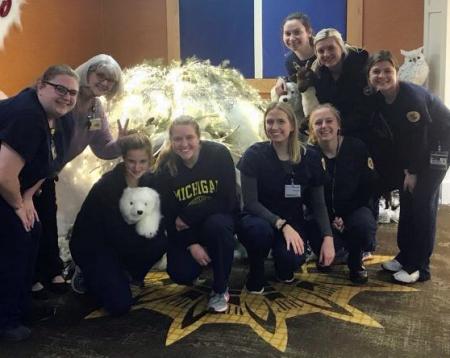 Erin Similuk's clinical placement during the first semester of her senior year brought an unexpected challenge and accomplishment when her group was assigned to the Chelsea Retirement Community.
"I've always been really interested in working with geriatric populations," said Similuk. "So many students want to work in pediatrics, but for some reason, I've always connected really well with seniors."
The group was led by Catherine Doman, RN, BSN, CHPN, CDP, a University of Michigan School of Nursing (UMSN) LEO lecturer. Doman had noticed that the retirement community's library could use a little help.
"A lot of the books didn't have covers or descriptions so the residents didn't know what they were and not many were in large print," explained Similuk. "They were mostly donations so they weren't necessarily what the residents wanted."
The idea
At Doman's suggestion, Similuk applied for a University of Michigan Library Student Mini-Grant. The task was not part of her course requirements, but Similuk wanted to give it a try even though the process of writing a grant can be daunting and time-consuming.
"It was intimidating at first because I had never written a grant before," said Similuk. "But, the library system did it in a great way that helped guide my process as I was writing it."
Similuk was rewarded for her effort. She earned a grant for nearly $1,000 to purchase 185 large print books for the retirement community. When the books arrived, Doman and Similuk also organized a book sale to reduce the number of older books and use that money to buy even more large print books.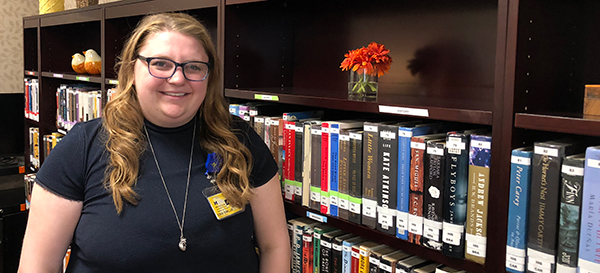 Reading Buddies
Similuk isn't stopping there even though that clinical placement has finished. She's currently organizing a reading buddies program to encourage community members, especially young adults, to read with the Chelsea residents.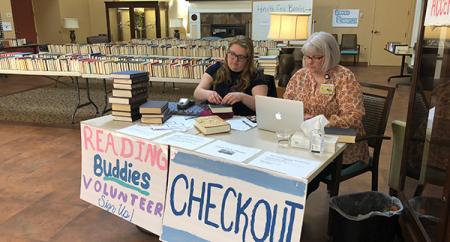 "Aging can be a very lonely process," said Similuk. "The residents really enjoy when the nursing students come for our clinical rotation and I'd like to help them connect with more young adults. Sometimes young people worry that they won't know what to say but the residents are just regular people who want someone to talk to."
Similuk plans to get the program running before she hands it off to the resident community staff. After all, she's just a few weeks away from graduating with her nursing degree.
"I'm not sure where I'm going yet," she said. "I'm interested in working on quality of life care for the elderly, but it will depend on where I get a job. It's exciting to think about what is next."
Get involved
If you're interested in participating in the reading buddies program, email Erin Similuk: eksimi@umich.edu