Brave spaces at the University of Michigan School of Nursing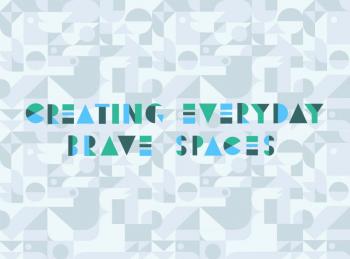 The University of Michigan School of Nursing recently unveiled a set of educational materials designed to encourage productive, challenging conversations among the school community. Designed to be used both in the classroom and in office settings, or even just among friends, "Creating Brave Spaces" is a guide for navigating difficult conversations around challenging topics, such as identity or politics.
Stephen Sullivan, research coordinator, led the initiative to develop the materials. He notes that conversations around topics that touch people's core identities can easily devolve into contention and antagonism.
"There's no guarantee you're going to walk away from something not feeling offended. But sometimes you have to open yourself up to be vulnerable in order to reach a productive moment," Sullivan said.
The project grew out of conversations in the DEI implementation group, in particular between Dean Patricia Hurn and Professor Rob Stephenson. Sullivan, who works with Stephenson in the Center for Sexual and Health Disparities, was motivated to work on the project after seeing the climate on campus become contentious after the 2016 presidential election.
"What I found from attending a number of student-focused events on campus was that there was a need for strategies, beyond events, to help address political differences," Sullivan said.
The resource, a two-part series of cards organized into flipbooks that can stand on tables, gives definitions, strategies, and suggestions for further reading. For example, a communicative strategy offered is "challenge the idea, not the person." A suggestion for facilitation is "identify a clear purpose for the conversation."
Content for the brave spaces flipbooks was sourced from the Program on Intergroup Relations, Multi-Ethnic Student Affairs, Center for Research on Learning and Teaching, and Chief Diversity Officer Rushika Patel. 
The flipbooks are available for the entire UMSN community. They have been placed in common areas in 400 NIB and SNB, and distributed to faculty and staff. Additionally, more are available upon request through the marketing and communications office.
Additionally, UMSN is developing a physical brave space. This lounge, in 400 NIB, will be home to discussions and events that provide ways for students, faculty, and staff to voice their views and learn from each other about difficult topics. 
For Sullivan, this project was a labor of love. "After the presidential election, I wanted to do something. And I'd heard from others that they wanted to be able to have a way to navigate the strong emotions that come with talking about difficult issues," he said.
"It's one set of tools that I hope will help build bridges instead of increasing polarization."