My beginnings: Joseph Morris, Ph.D., CNS, GNP
This story was first published in Nursing Matters, Summer 2017.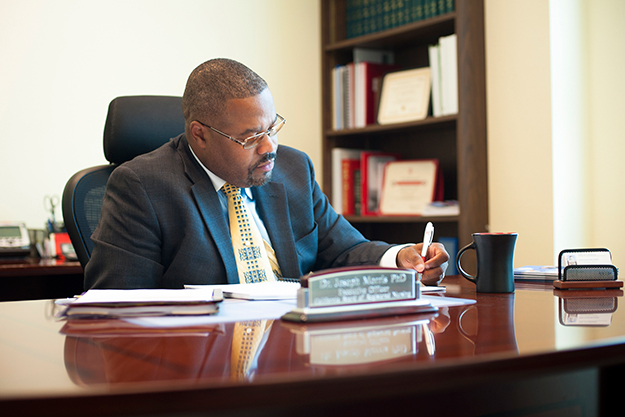 Joseph Morris, Ph.D., CNS, GNP (BSN '97, MSN '02) is a true Michigan man. He excelled at the University of Michigan School of Nursing (UMSN) at a time when there were very few men enrolled and even fewer African-American men. Still, he forged close connections with his colleagues and mentors, and he found, in nursing, an ever-inspiring profession.
Personal calling
Nursing is personal for Morris, whose family was forever impacted by an avoidable mistake within the health care system.
"My mother suffered a medical mishap," Morris recalls.
Understanding the life-shattering toll that medical mistakes can have on patients and their families continues to motivate Morris to set standards for consumer protection and qualified nursing care. Morris moved from clinical practice to management, then teaching and finally to executive leadership in state government. Today, Morris is the Chief Executive Officer for the State of California Board of Registered Nurses.
California has the largest number of RNs of any U.S. state and has incredible diversity within its RN population. Because of its size and diversity, the governing, oversight, disciplinary, and licensing processes, Morris believes California can be a proving ground for the rest of the country.
"I'm in a position that gives me an opportunity to educate nurses, protect the public, and advocate for those who are vulnerable and underserved," says Morris. "I try to work towards achieving those goals every day I come to work."
Diversifying the workforce
As part of his work elevating consumer protection standards and qualified nursing care, he is focused on moving the field of nursing forward by creating a more diverse workforce—driving programs and processes specifically focused on increasing the presence of African American and Latino men in nursing. Additionally, he has set out to make nursing a more educated workforce. He works to increase the numbers of educational partnerships that allow RNs with associate degrees to attain higher degrees. Understanding the shortage of health care professionals engaged with vulnerable populations, he is an advocate of expanding practice opportunities in rural areas and in prisons.
Michigan mentorship
Twenty years after his graduation from UMSN, Morris still remembers the mentorship he received from Michigan faculty.
California address notwithstanding, Morris considers Michigan to be home. After graduation, he worked for more than 10 years in the Henry Ford Health System, where he created a health initiative focused on African-American men.
"My education at the University of Michigan set the foundation for the rest of my career and prepared me for the rigors of the profession. The standards and expectations prepared me for the position I'm in now," comments Morris. 
Patricia Coleman-Burns, Ph.D., MA, an assistant professor emerita at UMSN, mentored Morris during his time at UMSN and throughout his career.
"He cares for the success of U-M students like himself," Coleman-Burns says. "When I first met him, I saw the incredible generosity of spirit he had. That quality has never left him."
Morris remembers the confidence Coleman-Burns instilled in him. "She helped me accomplish more than I could have dreamed as an undergraduate student." he says.
Advice for future nurses
Now in a position of an executive change agent to mentor young undergraduate students thinking about careers in nursing, Morris is encouraging, but asks them to examine their motivations.
"You have to soul-search and understand why you are doing it," advises Morris.  "Long hours are required and you are held accountable as a nurse, therefore you have to know you are doing it for the right reasons."