Leadership insight: Q&A with Janean Holden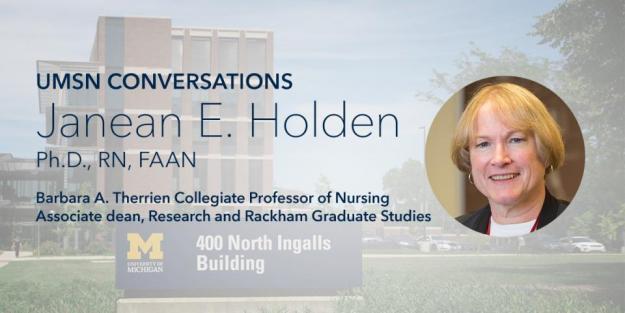 Dr. Holden, Associate Dean for Research and Rackham Graduate Studies, sat down with Jaime Meyers to discuss her role in leading research at UMSN.
Jaime Meyers (JM): Your job title is Associate Dean of Research at UMSN. Can you give us a "big picture" explanation of what that entails?
Janean Holden (JH): The department chairs work with the individual faculty for research and I work with the chairs on the larger picture. When I work directly with faculty, my role is more of a supportive one. We talk about funding and research ideas. I participate in our think tanks, mock reviews and help with training grants and larger grants that cross individuals.
I oversee the Grants and Research Office (GRO) and work closely together with our GRO manager. I also work with Rob Ploutz-Snyder who leads the Applied Biostatistics Laboratory. There are not many schools that have their own stats group. We want to promote this among faculty and make sure they take advantage of it.
As part of my role, I oversee the PhD program with Ellen Smith, the director. It's the education of future scientists and that is so important. We have to make sure we are turning out quality scientists who can also write papers and grants.
Another piece is to interface with central campus and units like the U-M Office of Research, the other research associate deans, Rackham Graduate School, and the U-M Translational Research Council.
JM: So that's big picture. What are some of the day-to-day and nitty-gritty responsibilities?
JH: I'm in charge of the gift accounts from donors and making sure that money is allocated properly. That's important because that's good money for pilot data for our faculty.
There's also research space management. That's not my favorite part. It's challenging but it's necessary because the school is growing and we have to provide adequate support for our folks.
I also have responsibilities with research regulations so that includes lab safety, data safety, compliance issues associated with research, and the ethical conduct of research.
JM: What are some things you're excited about getting done?
JH: A major project has been developing and organizing our unifying themes. It's to help us understand what each individual is contributing to the whole and to find collaborations among our faculty.
The issue of space is a big one. Because that is so difficult and demanding, we are working on making that smoother. We've gotten the GRO offices a little more stable and user friendly. That's working well.
JM: What do you want staff members who don't work closely with researchers to know about nursing research?
JH: Nursing is a very eclectic discipline. We have research that's done on a broad range of topics and categories and methodologies. If you look at what our people are doing and the potential impact it has on health care, it's huge. We have strong researchers and they are making an impact on health care for individuals, communities and populations.
JM: What is the biggest challenge in research right now and how are you addressing it?
JH: Without a doubt it's funding. It's getting tougher and tougher. It can be discouraging but our people are succeeding in getting federal and foundation funding. When we do the work, we're having results so it is important is to keep trying. If you don't submit anything, you won't get anything. The standard was NIH but we're getting creative in our sources, like foundations.
JM: What is your favorite part of your job?
JH: I get really excited when I see someone doing great work. We have so many people doing strong, exciting research. That absolute favorite is when we have a think tank, like for a mock review. We sit down with an investigator and we talk about ideas. The generation of ideas is so fun.
JM: If you couldn't be a nurse, what would you do for a career?
JH: I've often thought about being a forensic pathologist. It just seems really interesting.