Leadership insight: Q&A with Cynthia Arslanian-Engoren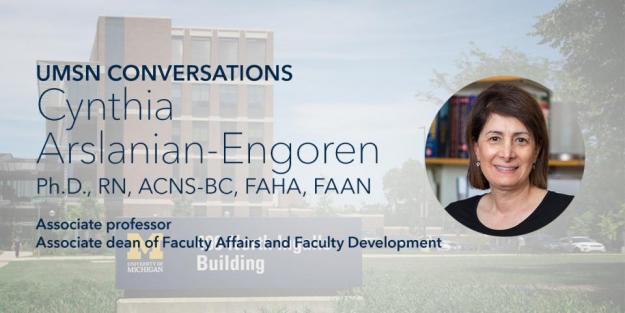 Associate Dean of Faculty Affairs and Faculty Development Cynthia Arslanian-Engoren sat down recently with Kate Wright to discuss her plans for faculty development in the upcoming academic year. She highlighted a number of initiatives aimed at new faculty, and reflected on how the school is changing.
Kate Wright (KW): You were recently named associate dean of faculty affairs and faculty development. What does that job entail?  
Cynthia Arslanian-Engoren (CAE): I focus on end-of-term review, promotion and tenure. I oversee and manage that process so it aligns with the policies and procedures at UMSN and the University of Michigan as a whole. I also oversee searches for new faculty and make sure our faculty are trained with STRIDE and maintain that training every three years.
KW: You mentioned STRIDE. Can you explain what that is?
CAE: STRIDE stands for Strategies and Tactics for Recruiting to Improve Diversity and Excellence. It's a training for faculty who are engaged in recruiting new faculty members to the university. I've actually been through it several times.  It really focuses on what kinds of questions you can and can't ask people. It's about equity of our candidates, so that the same process is used for each person, and people have equal opportunity. Candidates should not be inadvertently advantaged or disadvantaged. I think it's very helpful.
KW: How much is the school's diversity, equity and inclusion strategic plan part of what you do
I work closely with Rushika Patel, senior director for diversity, equity, and inclusion. I'm working on an assistant professor retention toolkit as it relates to DEI. Last year I had a luncheon with the new assistant professors to ask them what they would want to have or know about, and I've also looked at what other schools offer and what might be helpful. So we will pilot it this year and see how it is received.
CAE: What are some of the things you would like to get accomplished in the short-term? Long-term?
I took last year's faculty input into account when putting together my goals. They wanted more lunch and learns in order to learn more about a variety of topics. This semester, lunch and learns are scheduled once a month, on Wednesdays. There's a smattering of research and education topics.
Another goal is to really enhance and enrich the new faculty orientation. The orientation has been expanded from half a day to a day and a half, which aligns with the university's orientation.
In addition, I will facilitate one faculty development event each semester for the entire faculty.
A longer-term goal is really to see about fostering mentorship relationships. Mentorship is a big factor, and a lot of it stems from the fact that UMSN is rigorous, so people want to know what they need to do to be promoted here.
KW: What type of professional development opportunities are offered at UMSN?
CAE: Here within the school we offer professional development targeted to all of our faculty in areas specific to what they have asked for. Last year we did a career cartography workshop. Career cartography is a career-mapping exercise that helps faculty strategically about long term research goals and communicating research outcomes to policymakers and the public. We also did a workshop on IT and teaching.
KW: How have you seen the School of Nursing change?
CAE: I've been at the school since 2001, so I have seen the school change. Former dean Kate Potempa had a big emphasis on bridging and building with the health system. We've brought in faculty members who are not just nurses. We now have demographers, public health experts, faculty with advanced preparation in other fields. So there is now a strong diversity in preparation.
KW: What are you currently reading?
CAE: I have limited time for pleasure reading, that's for sure. But I keep up on the news, so CNN, NPR, MSNBC. I like to read biographies. Walter Isaacson is a fabulous writer.