Two careers, three kids, and twenty years of marriage: Brandon and Chanda Perry's balancing act

When Chanda and Brandon Perry decided to go back to school, they knew it would test their mettle. The married couple had spent more than a decade working decent-paying automotive and clerical jobs to support their family, but neither had a career. That wasn't an issue for the Perrys until Michigan became ground zero for the Great Recession.  
It was 2009, and the worst economic crisis since the Great Depression was wreaking havoc on American families. The Perrys were raising three young children, the economy was in shambles, and jobs that paid a living wage were evaporating.
The Perrys went into problem-solving mode, foreshadowing their future in nursing, where problem-solving skills are the calling card of excellent nursing practice.
"We looked around the economic landscape and decided nursing gave us the best opportunity to make a good living and make a difference," said Brandon Perry.
"Early in our marriage, Brandon said, 'I want us to figure out what our purpose is as a family,'" Chanda Perry explained. "It turned out to be nursing."
The call to nursing
When the Perry's children were small, Chanda Perry ran an in-home daycare, and cared for kids with various needs.
"I took children in from homeless shelters and often had sick kids," she said. "I had a child with special needs, one who was on the autism spectrum, one with a history of epilepsy. I had to learn a lot of things, so I could support their parents, who were mostly single working moms, who didn't get a lot of support from their employers."
Brandon Perry's exposure to nursing came through his work as a transporter at the University Hospital Michigan Medicine, where he worked part-time in addition to working at the automotive plant. His hours at the hospital grew as the economic crisis dragged on and his hours at the plant became inconsistent.
"I started watching ID badges at work, trying to see who's who," Brandon Perry said. "I saw that nurses do so many different things."
But before they could enter into one of the most trusted and seemingly recession-proof professions, there was a long, difficult road ahead for Brandon and Chanda Perry.
Brandon Perry, having dropped out of high school, had to get his GED, then handle his science pre-requisites before he could apply to UMSN. Chanda Perry already had a bachelor's degree, so she began the science pre-requisites, then entered UMSN's accelerated BSN program in 2011. While Chanda Perry committed full time to the academic program, Brandon Perry has continued working full time through his program.
"So many times I would get off work, pull in the parking lot, get an hour of sleep in the car, then go to class," Brandon Perry said.
It was a trying time, but their children (they have three daughters, now aged 25, 18, and 15), and their purpose as a family remained their motivation.
"How can you say with your heart that school is important and you don't even have your GED," said Brandon Perry. "So one of the biggest motivations for me was to live the example."
Harder than school: managing motherhood and finances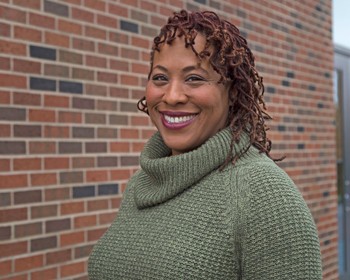 As challenging as the accelerated program was, the hardest part for Chanda Perry was not the classes.
"My biggest place of anxiety were my kids," she said. "I had to check out from my family for a year. I just didn't know how I could do that."
Encouraging stories from friends who had experienced their own mothers returning to school when they were young made Chanda Perry realize that her kids would be okay.
"What I didn't expect, but appreciated, was the different type of relationship that Brandon and the girls had when I was done. That connection remains between them even up until now," Chanda Perry said. 
Finances were hard as well, especially when Chanda Perry's unemployment benefits ran out and her car broke down during her clinical rotation. They had to make it work with one car.
"She would drop me off at work in the evening, come get me in the morning, then I'd bring her to school, sleep in the car till she got out of class," Brandon Perry explained. "Then we'd drive to her clinical site if she had to, then we'd pick up the kids."
"We spent that semester in the car," Chanda Perry remembered with a laugh. "We had moved in with my parents, to provide stability for our kids, but we were always in the car, with blankets and everything."
Spreading motivation and music
Brandon Perry sees a connection between community health nursing and his calling as a motivational speaker and rapper. Growing out of youth work at their church, the Perrys spent several years as motivational speakers, traveling the country to speak at churches and schools. They would talk about setting goals, making good choices, and staying connected to support systems.
Similar uplifting messages flow through Brandon Perry's music.  He has a gospel rap album 'The Psalmist' (available on Spotify), and he raps about his experiences and his faith.
Upon finding out that he had an album, his clinical classmates asked their instructor if Brandon could have some class time to perform for them. On November 6, he did just that, sharing a song with the class called "Break the Cycle." UMSN went Facebook-live for the performance. A recording is available here.
Brandon Perry looks forward to getting back to this kind of outreach when he finishes school.
"I haven't had time for music lately, but I'm going to do one more album after I graduate," Brandon said.
Standing in the gap
Today, Chanda Perry is an emergency room nurse at Michigan Medicine. She loves helping patients navigate life-changing events, and part of that is increasing their trust in the medical establishment.
"My mom's family is from Selma, Alabama," Chanda Perry said. "Where my mom grew up during a time when there was nowhere to go for health care. So, I saw my family dying when it wasn't necessary."
"I saw a lot of fear about anything related to health care, hospitals, physicians and nurses," she explained. "I feel like I have a burden to stand in the gap and help open people's minds when fear is in the way."
Chanda Perry's front row seat on health disparities gives her a clear view of the importance of a diverse nursing workforce.
"When you are dealing with things that are hard, you want to find people who are like you," she said. "That's what support groups are all about."
Support at UMSN, and for future students
Support for Brandon Perry, as he navigated his return to school, has been strong. Classmates and professors have become 'Team Brandon.'
"I have a team behind me," he said.
The Perrys are heartened by the school's recent effort to support and recruit minority students, who have taken non-traditional pathways to nursing.
Chanda Perry notes that minority students often need unique kinds of support.
"Minority students are often first generation students, and they don't understand what a common challenge is," she said. "Students feel like maybe this is too much for them, but really it's something that's hard for everyone. I hope that I can help them navigate through some of those challenges."
The family that studies together
Brandon and Chanda Perry celebrated 20 years of marriage on November 2, 2017. Despite their obvious differences – her thoughtful calm to his kinetic energy, her natural reserve to his exuberance – the Perrys radiate the love and commitment they have for each other.
"Brandon's very personable," she said. "When he comes in the room, everything lights up."
Brandon Perry attributes the success of their marriage to their flexibility, their shared goals, and their faith. In addition, they believe that seeing them persevere and earn degrees at one of the top schools in the country has been good for their daughters.
The example seems to have worked. Their second daughter will graduate from high school this April, and is headed to college, with plans to become a pediatrician.
Brandon recently completed his clinical rotation with a focus on community health.
"I've always done a lot of things in the community, and I want to be more engaged one day. I think I could do that through community health," Brandon said.
Brandon Perry is set to graduate in April 2018, joining his wife as the second UMSN nurse in the family.
Their vision for the future has become reality.