Alumni spotlight: An international student advances global focus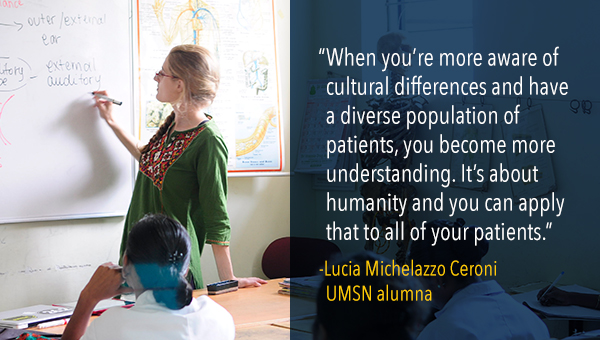 As a teenager growing up in Argentina, Lucia Michelazzo Ceroni knew she wanted a career in health care that would give her opportunities to travel the world while making a difference through hands-on service.
"I wanted to join Doctors Without Borders," she explained. "I wanted something where I could go to school for four years and then be in the field, so not necessarily as a doctor. As I learned about the opportunities for nurses to serve people with the most need, that's what really drew me to nursing. It was the type of work I wanted to do."
Her global start
Michelazzo Ceroni had her first global experience when she left Argentina to attend an international high school in Norway. It was there that she began looking for nursing schools that would provide her with the education and opportunities she was looking for to launch her career.
"I didn't really know about the University of Michigan, to be honest," Michelazzo Ceroni said with a laugh. "But, once I started looking into it, I realized what a good school it is."
Global Michigan
Michelazzo Ceroni immediately jumped at global opportunities that were available to her as a U-M student. She began with an interdisciplinary project in Mexico led by the U-M Ross School of Business and West Point. The experience focused on increasing access to clean water and developing a detailed response plan for emergencies.
Up next was a fellowship in Saragur, India through U-M's Center for South Asian Studies.  The fellowship allows students to design their own research program. Michelazzo Ceroni worked with a youth program that focuses on a variety of health-focused initiatives including research and education.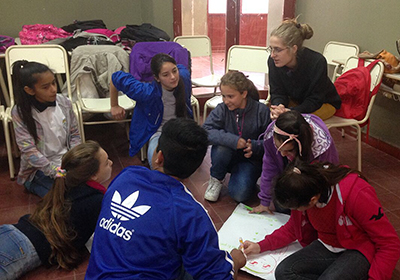 Michelazzo Ceroni's commitment to global health was recognized by the selection committee of U-M's Wallenberg Summer Travel Awards. The highly prestigious and competitive awards are granted to a small number of U-M students from all disciplines each year. Recipients take part in a community service project anywhere in the world. Michelazzo Ceroni chose La Matria in Argentina where she worked with young adults on a variety of health issues including gender-based disparities and access to care.
Michelazzo Ceroni encourages current and future students to take advantage of the global opportunities available through U-M.
"The first global experience is usually the hardest one and doing it with U-M gives you a safe experience," she said.
She believes the experiences will be valuable to any nursing student, even if they don't have plans to practice internationally.
"Nursing is a very culturally-sensitive profession," she said. "When you're more aware of cultural differences and have a diverse population of patients, you become more understanding. It's about humanity and you can apply that to all of your patients."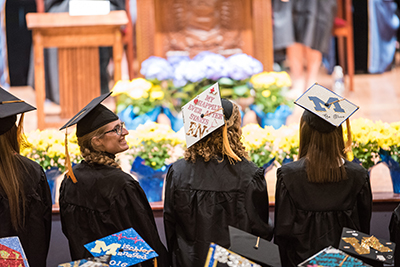 Michelazzo Ceroni graduated from UMSN in 2016 with her BSN.
"The U-M experience gives you the fundamentals with a really high level of education," she said. "It teaches you to be a professional and it's not just about the knowledge. It's about the communities and the different people you will encounter in the nursing profession. Also, U-M is really focused on evidence-based practice all the time. That is so critical in a good way. Critical thinking changes the way you look at the world and I learned that from the university."
Now and in the future
Michelazzo Ceroni is currently working with the American Nursing Institute in Myanmar, formerly known as Burma, to teach nursing students. It started as a temporary assignment but became a full-time job.
"I fell in love with this place, the people and project," she said. "I really feel like I'm making a difference here."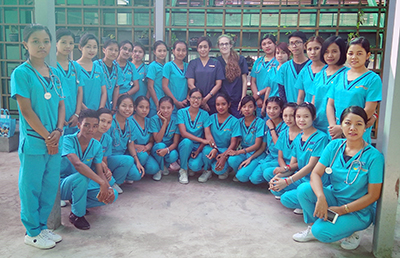 All of Michelazzo Ceroni's experiences ended up changing her original plan to get through school quickly and join Doctors Without Borders.
"I need more time working as a professional before I could join Doctors Without Borders," she said. "It's okay because I'm getting the experiences that I wanted and I'm developing an interest in education now. That's something I didn't expect. I'm also still interested in research."
Michelazzo Ceroni's next big step will be graduate school. She doesn't know if she'll pursue Doctors Without Borders after that but says she's very optimistic about the opportunities that will continue for nurses.
"The profession is growing and growing in value around the world," she said. "There is so much for nurses to do globally everywhere. As long as I can work globally, I will be happy."