Student spotlight: Increasing opportunities through the Student Nurses' Association

When Karissa Koomen took on the role of president of the Student Nurses' Association (SNA) at the University of Michigan's School of Nursing (UMSN), she and fellow board members knew they wanted to make a significant change.
"We had great events but our attendance was not the best," said the UMSN senior. "A lot of students were missing out on the benefits so we decided to change the format from open meetings to having actual members."
The new approach
The board got to work creating an official membership for students. The change was well received, as evidenced by approximately 180 UMSN students who joined within the first few months.
Now those new members are officially part of SNA's activities, many of which are focused on career preparation. The organization hosts events to connect students with a wide variety of professionals such as hospital representatives looking to fill internships and it provides professional development activities including resume workshops. In addition, SNA invites UMSN alumni to speak at meetings to share their paths and offer advice on making the transition from student to professional nurse.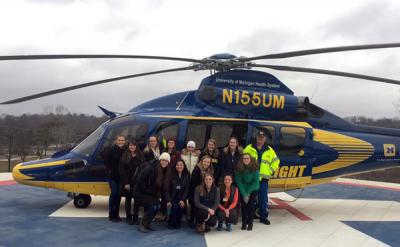 The membership does include a few requirements, such as a service element, but the board is being cautious.
"We're starting with really small requirements because this is new and we really want people to get involved and not worry that it will be too much with their schedules," explained Koomen.
The SNA board has several different service activities for members to choose from including volunteering with the Ann Arbor-based Haiti Nursing Foundation, cooking dinner for families at the Ronald McDonald House, and making blankets for pediatric patients at C.S. Mott Children's Hospital.
In addition, the board has a new goal of raising enough funds to send students to regional and national conferences.
Benefit of community
Koomen has been on the SNA board since her freshman year and says the connection to upperclassmen has been a significant benefit.
"We tend to stick to our own class levels because that's how the nursing program is structured," she said. "But, it's really helpful to talk to people who have already been through some of the more difficult parts of the program."
That's why Koomen hopes incoming and younger students will get involved with SNA and find support from fellow students who are going through the same challenges or have already gone through them.
"No other undergraduate program is like nursing," she said. "Nursing school is very different from what many other students are doing. SNA helps us get ready for the future but you also find a lot of support for the challenges we're facing right now."
Finding a focus area
Koomen will be using some of the lessons learned through her leadership of SNA, and the events themselves, as she looks towards the future. With less than a year until graduation, Koomen is focusing on the specialty that drew her to nursing. While still in high school, she shadowed a nurse in a labor and delivery ward and was hooked.
"I saw my first birth and it was amazing," she said. "Everyone seemed to love their job. I saw what a great career nursing could be."
The feeling was reinforced during Koomen's labor and delivery clinical rotation.
"It confirmed that it's something I really want to do," she said. "I really liked my pediatric rotation too, so that's also an option."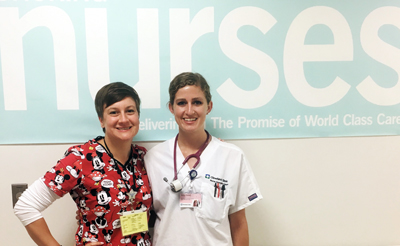 Koomen's interest in maternal and children's health was further strengthened through a 10-week externship in a Cleveland Clinic post-partum unit.  She also gained interdisciplinary research experience in her focus area when she volunteered with Tammy Chang, MD, in U-M's Department of Family Medicine. Koomen collaborated on several research projects including a healthy pregnancy initiative and a text message survey to measure adolescent opinions on health policy topics.
Koomen says while she doesn't know exactly where she'll end up after graduation, she is optimistic.
"It is a little overwhelming to think about," she said. "But, I've had really great experiences here and learned so much, so I'm looking forward to whatever comes next."