Local senior finds inspiration, builds community while pursuing nursing degree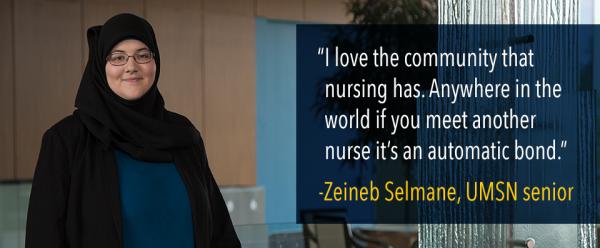 Zeineb Selmane, senior nursing student at University of Michigan School of Nursing (UMSN) is as local as it gets, despite her tri-citizenship status. Born in Canada to Algerian parents, she moved with her family at age seven to Ann Arbor.
"My family chose Ann Arbor because of the University of Michigan and the school system. I went to high school right down the road, at Huron," she said. 
"I grew up here. My home is here and this is where I want to be for the long-haul."
Community of nursing
When considering a career, Selmane was inspired by a nurse who shared her deep connection with other nurses in the field.
"I love the community that nursing has. Anywhere in the world if you meet another nurse it's an automatic bond," she explained.
Community is important to Selmane. She was motivated to serve in Nursing Student Government to improve community at the school.
"I wanted to create school wide events to bring people together. I noticed that there was a lack of community over the four years. Within your cohort you make friends, but for example I had questions that only a junior could answer and I didn't know any juniors," she said.
Her goal is to overcome the challenge of studying in a building that is isolated from the rest of central campus.
"This should be our hub, this should be where people come to study, hang out, go to cool events and hear great lectures," she said.
Learning through research
In addition to serving on student government and focusing on her studies, Selmane was committed to exploring research as a student. Inspired by the passion her professors showed for their own research, she was looking for the right opportunity when the CASCAID research project started.
CASCAID seeks to encourage trauma-informed care in the practice of nursing, and includes an active team of student researchers.
Selmane has learned a lot from her involvement in the research team.
"Trauma-informed care is not just something that is for psychiatric nursing. It's for every field, every patient. The whole health system is shifting to recognize that mental health matters. I think it is absolutely fascinating."
Looking forward to work with children
"I wanted to do pediatrics for as long as I can remember. I work at Mott Children's Hospital right now as an aide, and that has solidified my love."
Pediatrics is Selmane's way of combining her love of science, particularly biology and anatomy, with her desire to connect with people.
"Getting to know the patients and the families is something I love. I get so close to everybody. It just makes me so happy."
The main difference between working with children and with adults, for Selmane, is children's resilience.
"You know no matter what's going to happen they're going to smile at the end of it," she explained.
Selmane expects to graduate in April 2018.
"I'm excited but nervous about entering the real world," she said. "I want to work for a few years before continuing my education."
Whether that means returning to school to become a pediatric nurse practitioner, or widening her scope to pursue dual certification in family practice and midwifery, Selmane is committed to being part of the community of nurses.