What's in a name? Nurse, veteran, farmer: student's unique experiences help guide him along the journey to a DNP degree

Nursing students may wake up early and work long hours, but not many of them start and end their day by taking care of a herd of dairy goats, a handful of ducks, some chicken, and a couple of horses.
Michael Cochenour, doctorate of nursing practice (DNP) student who expects to defend in December 2017, does all that and more. On five acres in South Lyon, Michigan, he and his family are in the process of starting a micro-dairy with the goal of selling goat milk, cheeses, yogurt, and ice cream in local stores.
Cochenour also works full-time at the John D. Dingell VA Medical Center (VAMC) in Detroit. A psychiatric nurse practitioner, he sees patients in the acute psychiatric emergency, in-patient, and out-patient departments. At the same time, Cochenour is active in the military.
Armed service
Cochenour served four years in the Navy, seeing active duty in the Persian Gulf, before completing his bachelor of science in nursing (BSN). After that service, Cochenour enlisted in the Army and served as a civil affairs officer, liaising between local communities and the U.S. Army in various locations around the world. During the height of the Ebola epidemic, he was in Monrovia, embedded with military officials in the Liberian army.
While no U.S. military forces were allowed to participate in patient care during the Ebola crisis, he credits the experience as relevant to his career by developing his leadership skills and ability to work within a complex structured environment.
"I was an advisor for the Armed Forces of Liberia," Cochenour explained. "We provided them with guidance on how to best structure their military forces. This deployment allowed me to travel extensively throughout the country and surrounding countries in support of our African counterparts. We had the opportunity to provide outreach to remote jungle villages, as well as large metropolitan areas."
Cochenour continues to serve in the Army, as a military police officer for the Michigan Guard, and September 2017 will mark 20 years of military service.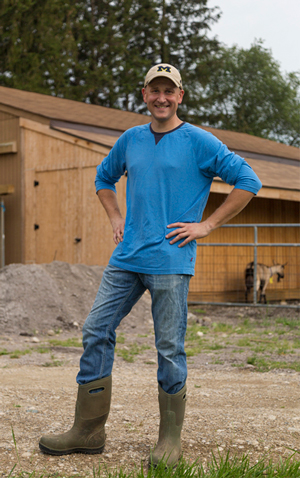 Taking the clinic to the community
Cochenour's experience as a civil affairs officer and his clinical work in psychiatric health led him to develop a special outreach program at the Detroit VAMC. The Community Engagement Response Team (CERT), serves as a liaison between the clinic and the population. The team reaches out to patients who are noncompliant with their program of care after being discharged from the hospital. Mental health patients are a special concern of the team because these patients often find it difficult to remain compliant with their program of care.
"These individuals may lack social support or encouragement, or may need help with basic needs, like housing and food, and thus their living situation makes compliance difficult or impossible," Cochenour explained.
According to Cochenour, some psychiatric patients may not believe they need their medicine or may be distrustful of those who encourage them to take their medicine. These are the most vulnerable, and they often come back through the emergency room.
Reaching patients with compassion
In the future, he plans to add social workers, peer support specialists, addiction specialists, and nurses to CERT. Cochenour's goal, through CERT, is to prevent hospital readmission by helping individuals stay on their path of care. This means reaching out to patients wherever they may be. Cochenour and his CERT team will drive through Detroit's streets, looking for patients they know.
"It's like being a detective," he laughed. "I've been told I look like a cop."
However he may look, CERT's success lies in relationship that Cochenour has with his patients. They trust him.
"Like all of nursing," he said, "Developing compassionate rapport is central to this."
Improving a clinical risk index tool
CERT is part of Cochenour's scholarly project for his DNP. In developing CERT, he revised and improved a clinical risk index tool for this patient population and uses it to assess the likelihood of a patient returning to the emergency room.
"The index will help determine the relative risk for readmission when coupled with post discharge community intervention," he explained.
Preventing readmission
Preventing readmission is important partly because it saves the hospital costs, but mostly because it prevents harm to the patient by getting them to a stable life more quickly.
Community intervention is the missing piece the ensure stability and outpatient follow up compliance.
"With this intervention, I expect to see a reduction in the number of readmissions and an improvement in quality of life for the seriously mental ill patient population," Cochenour said.
The DNP advantage
He values how the DNP program has helped him understand the science and evidence that is needed to move knowledge forward.
"I have learned how to be scientifically critical, and the DNP has helped me understand my role in the greater strategic picture of working in the interdisciplinary environment of the hospital," he explained.
Cochenour is a firm believer in working while going to school, and loves that the web-blended format of the DNP degree allows him to do that.
"Being on the job enhances my academic work, and my academic work keeps me sharper at work," said Cochenour.