Nursing student uses yoga to cope with life-altering injuries and illness

A history of cyclic vomiting syndrome, skull fractures from a boat accident so severe the driver was killed, and ulcerative colitis, is reason enough that Jaclyn Schaumburger might try to avoid hospitals whenever possible. Instead, she's pursuing a career in nursing that will allow her to use her health challenges to help others.
"I was always really sick as a kid," said Schaumburger, who just finished her junior year at the University of Michigan School of Nursing (UMSN). "There were so many people who took care of me. I was really inspired by the nurses and how much they did, so that's why I decided to go into nursing."
Illness and injury
Schaumburger was in third grade when she began having vomiting episodes that were so frequent and violent that she tore her esophagus. She was diagnosed with cyclic vomiting syndrome and hospitalized for eight days. More hospital visits would follow as the random episodes continued until she outgrew the syndrome in middle school.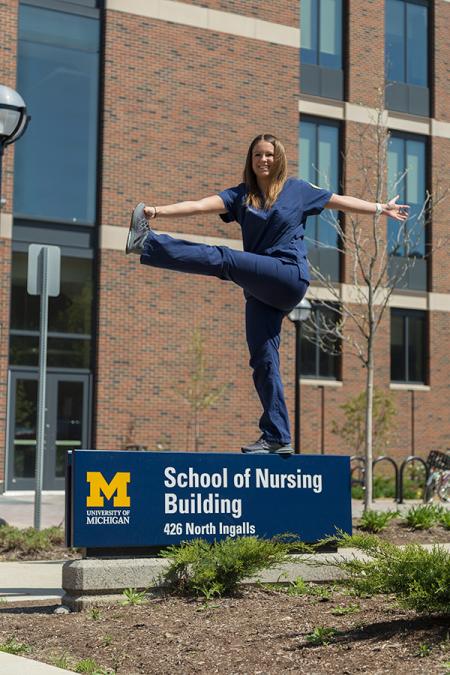 Less than a week before Schaumburger was to begin high school, she was in Northern Michigan enjoying the last days of summer vacation. She went for a ride on a mutual friend's boat that ended in tragedy. Their boat collided with another and the driver was killed.
Schaumburger sustained multiple skull fractures and was helicoptered by University of Michigan's Survival Flight to C.S. Mott Children's Hospital. 
"Right now I work in the pediatric intensive care unit (PICU)," said Schaumburger. "As soon as I walked in the first time, I had a moment just looking around and remembering that experience."
Discovering yoga
It was after the accident that Schaumburger began taking yoga classes at her mother's suggestion.
"I had bad back problems for a really long time," explained Schaumburger.  "I was getting steroid injections. They were so painful. I would be in bed for a week and then finally feel better. Then they stopped working as well as they should, so I needed to find something else."
Yoga helped, but it hadn't become the saving grace it would be later.
Another illness
Schaumburger had just begun her freshman year at UMSN when she was diagnosed with ulcerative colitis (UC). It's an inflammatory bowel disease that causes inflammation and ulcers in the digestive tract. It's painful, debilitating and can even lead to life-threatening complications.
"I had to take an incomplete and finish in the summer," said Schaumburger. "I was 80 pounds and couldn't even walk up the stairs on my own."
UC is not curable but can be managed through medication and diet. Schaumburger decided to incorporate yoga into her treatment plan.
Yoga in health care
"Yoga can really help with some chronic diseases with inflammation," she said.  "I know from personal experience that it helps. I feel worse without it. Yoga plays a huge role in maintaining feeling good with ulcerative colitis."
Schaumburger felt such a benefit from yoga that she became a certified instructor. Now she balances school with teaching classes at a local gym, for two high school hockey teams and the Eastern Michigan rowing teams.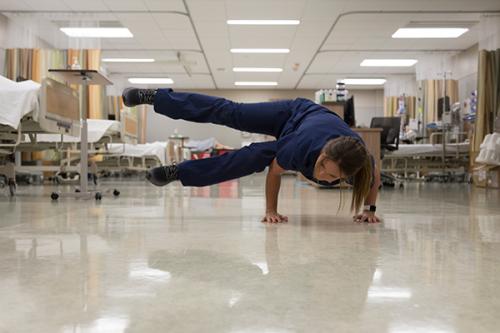 "I work almost seven days a week between teaching and the PICU," she said. "But, it's worth it. It's not just physical. There are mental benefits too. I feel ready to take on the day and nursing school when I'm doing yoga."
Schaumburger is a fan of hot yoga where practice occurs in a room heated to at least 90 degrees, if not hotter. She says the heat helps ease her inflammation but she understands that it might not be the class for everyone.
"You can find a class that's a really tough workout or if you just want to stretch," she said. "There's a class for everyone. People new to yoga are often nervous they aren't going to know what to do. The biggest thing to know is that no one is judging you. We're so unconnected nowadays but you develop a feeling of connectedness with the other people in your class, even if you don't talk to each other."
Yoga's accessibility to people of varied fitness levels is a reason why Schaumburger would like to encourage all nurses to learn about the benefits for themselves and for their patients.
"Living a healthy lifestyle is important for anyone in the health care field," she says. "I think it's important to practice what you preach. It can be really helpful to patients too. Nurses should be well-rounded in their knowledge of different exercises, just like medications. You can't recommend a medication that you know nothing about."
Along with sharing her enthusiasm for yoga, Schaumburger says she's already using her own experience as a patient in her work.
"My experience made me very empathetic toward my patients," she said. "It helps me understand what they are going through and it helps me talk to them. I've had some really great nurses and I've had some poor nurses. My experience has really impacted the way I want to take care of people."