UMSN associate dean featured speaker at March for Moms
"We must do all we can to assure all families have access to the maternity care they desire with the goal of providing the right care, in the right place, at the right time, with the right health professional team members," Lisa Kane Low, PhD, CNM, FACNM, FAAN, told the cheering crowd gathered in Washington, D.C. at the Jefferson Memorial for the March for Moms on May 14, 2017. Kane Low is an associate dean at the University of Michigan School of Nursing (UMSN) and she is president of the American Colleges of Nurse-Midwives.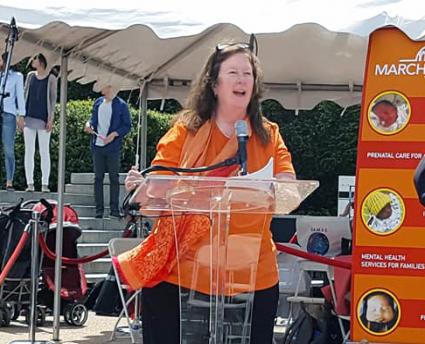 The line-up of featured speakers represented varying perspectives from health care professionals, consumers and families, that joined together to show support for protecting and improving maternal care. Speakers, including Dr. John Jennings, past president of American College of Obstetricians and Gynecologists, and model/activist Christy Turlington Burns, the founder and CEO of Every Mother Counts, were hosted by the March for Mother's Board to address the rising rates of maternal mortality in the US.
"Women's lives are at stake because they're not valued the same way as everyone," Turlington Burns told People Magazine in an interview after the march.
The March for Moms effort bills itself a group of professional and consumer organizations "who are passionate about the future health and well-being of pregnant people and their families." The rally was part of an extended weekend of advocacy including visits with lawmakers to discuss funding and other maternal health issues.
"We have rising maternity mortality rates, maternity care provider shortages and abhorrent racial disparities in birth outcomes," said Kane Low. "All of which require the coming together of all members of the maternity care community to demand awareness and change in how we prioritize what we do as a country on behalf of childbearing families."
Other March for Moms key issues include a comprehensive mental health focus with an emphasis on perinatal and postpartum depression, as well as work place concerns such as maternity and family leave policies.
Kane Low also called on federal legislators to reconsider current proposals, namely the American Health Care Act, that would cut funding relevant to maternal care, access to care, Medicaid and social services that support families.
In addition, Kane Low stressed the likely repercussions of cutting funds to health profession and nursing training programs that are supported by Title VIII.
"We already know that many counties, 1263 to be exact, throughout the United States do not have any maternity care providers," she explained. "That means an OB/GYN, midwife or nurse practitioner. This reduction in funding will make it even worse. Families should not have to drive two to three hours for a prenatal visit because there is no one available in their community."