Ironclad bond: UMSN prof and alumna train together for Ironman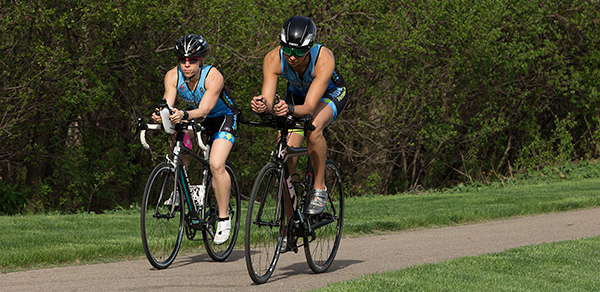 "It's a 2.4 mile swim, 112 mile bike ride and a full 26.2 mile marathon," says April Bigelow, Ph.D., ANP-BC, AGPCNP-BC, a University of Michigan School of Nursing (UMSN) clinical associate professor.
Bigelow is explaining the Ironman race she and alumna Jennifer El Aile are training for together. Both have completed multiple races and triathlons but the October race in Louisville, Ky, will be the biggest challenge yet. A full distance Ironman triathlon, like this one, is widely considered to be one the most difficult endurance events in the world.
El Aile is a graduate of UMSN's BSN and Adult-Gerontology Primary Care Nurse Practitioner programs. Bigelow was a professor and mentor for El Aile during her time in the master's program and they enjoyed discussing their various athletic endeavors, but it wasn't until after El Aile's graduation that the two became training partners.
"April was an amazing program director and professor," said El Aile. "Now we see each other every day at the gym.  I didn't think I would develop a lasting friendship with my professor, but indeed I did and now we're on our journey to Ironman together."
That journey includes intensive 5 a.m. sessions at the gym at least six times a week, plus afternoon workouts a few times a week.
Student Becomes Teacher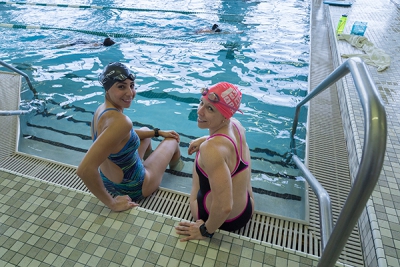 When asked who is the more advanced athlete, Bigelow said, "Jen, for sure. She's an inspiration. Everyone just tries to keep up with her."
El Aile says she's always had trouble sitting still, so she channels her energy into athletic events. She's been fascinated with Ironman races since high school and has competed in approximately 20 triathlons but this will be her first full distance Ironman. 
"After every race I learn something about myself, about my motivation, my determination, my ability to persevere and my ability to suffer," says El Aile. "It pushes me mentally and physically to be the strongest person I am capable of being."
The Nursing Perspective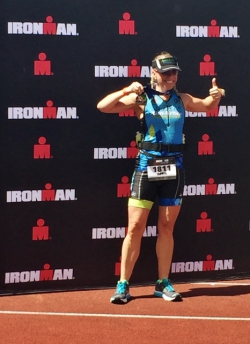 In an extreme race that tests mental and physical endurance, Bigelow and El Aile say it's only natural to bring their nursing perspective into training. In addition, they use their skills and education to help fellow athletes in the Ann Arbor Triathlon Club.
"Working in health care and seeing patients, I think about things a bit differently," says Bigelow. "I enjoy trying to outsmart the race. I have a detailed training plan. I study the race. I send motivational emails to the group and focus on creating habits to help us be physically and mentally strong. I use a lot of techniques with my group that I use with my patients."
El Aile is the educational coordinator for the club. She recently gave a presentation on heart arrhythmias (irregular heartbeat) to help members recognize symptoms and understand the risks, which can be heightened during intense exercise. She also coordinates health-focused events such as a discussion with a dermatology pathologist for the athletes to learn about protecting their skin while training outdoors.
One of Bigelow's key focus areas is nutrition.
"You need to make sure you are fueling the right way," she explains. "You should be thinking about how your body is metabolizing things, how many carbohydrates you need based on the effort you're putting in, that sort of thing."
Benefit to Students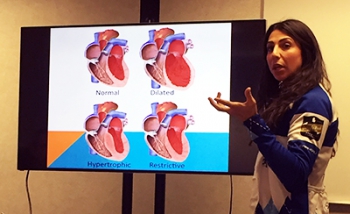 Bigelow's interest in nutrition will soon benefit UMSN students. She's pursuing a nutrition certification that will help her share her expanding knowledge.
Students can also expect to see El Aile in some classes. She works as an electrophysiology nurse practitioner at Michigan Heart in Ypsilanti, but she also serves as a UMSN lecturer focusing on acute chest pain and heart failure.
Example to Patients
Bigelow understands an Ironman race is an unlikely goal for most patients, but says many of the training principles are applicable to anyone who wants to improve their health.
"It's about taking small steps and then adding more small changes," says Bigelow. "It has to be sustainable. Be thoughtful about your goals. It's more than just numbers. Think about how to be healthier for your life."
Bigelow brings a relatable experience to her patients. She had a high-risk pregnancy while carrying twins and had to put many of her activities on hold.
"My long-term patients have seen the changes my body went through," said Bigelow. "They saw how much weight I gained and I was swollen just about everywhere. But then they saw me get back on track. It was slow at first but eventually I was able to get back to a healthy weight and lifestyle."
"We've always been told 'practice what you preach,' and I truly believe that," says El Aile. "I am always advising my patients to eat healthy and maintain a healthy active lifestyle. I want to set a positive example for each and every one of them."
See more ways UMSN faculty stay healthy.
Editor's update 10/17/2017: Bigelow and El Aile successfully completed the Louisville Ironman on 10/15/2017. Bigelow finished in 12:28:36 and El Aile in 11:40:09. Congratulations!