Student Spotlight: First-generation student rises above challenges to make a lasting gift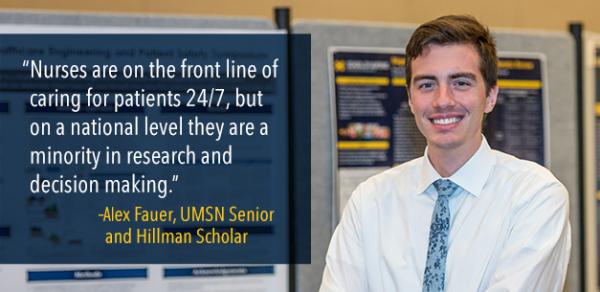 The University of Michigan represents several firsts for Alex Fauer. He would be the first in his family to attend college and U-M was his first choice. His parents, while supportive of Fauer pursuing higher education, had reservations.
"They know Michigan is hard school to get into," said Fauer. "I think because they hadn't gone through the experience themselves, they were a bit nervous. Money was a factor, of course, and they originally would have preferred for me to live at home and commute to a local school."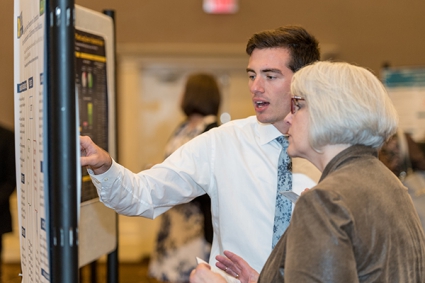 Fauer did explore other universities, but once he learned that U-M's School of Nursing (UMSN) was a top-ranked nursing school, that cemented his decision.
"Once I really looked at the U-M School of Nursing and saw all the opportunities that came with it, especially the work we get to do with the hospitals, it really was the best choice," he said.
Now a UMSN senior, Fauer said one of those opportunities led to an unexpected path.
"I applied to a research program as a freshman just to see what it was about," said Fauer. That curiosity ended up inspiring a new direction for his career.
Unpredicted opportunities
With a newly-found focus on research, Fauer applied to and was accepted into UMSN's prestigious Hillman Scholars program. Beginning junior year, the program puts students on an accelerated path to a Ph.D.
"I really want to work in health services research, informatics, big data, those sorts of things," explained Fauer.
He said he was pleasantly surprised to learn about the strength of interdisciplinary research at U-M. He cites his experience at the Center for Healthcare Engineering & Patient Safety (CHEPS) as a highlight of his U-M journey.
"Through CHEPS, I was connected to a multidisciplinary project at C.S. Mott Children's Hospital," he said. "They're doing a study on a health information technology tool, like an app, for bone marrow transplant patients. It integrates what nurses do in caring for patients and the big picture-- the informatics health services side and ways that technologies can impact health."
Fauer says being part of an interdisciplinary team showed him the importance of making sure nurses take an active role in shaping health care.
"Nurses are on the front line of caring for patients 24/7, but on a national level they are a minority in research and decision making," he said.  "We're doing it really well here at Michigan, but I'd like to see a stronger nursing emphasis on research and policy overall."
Finding community
Creating a niche was important for Fauer beyond setting the tone for his career. While thrilled to be at U-M, he was also struggling. Fauer is gay and it was a secret he kept for a long time. In a powerful 2016 OutSport essay, Fauer shared that in high school he battled deep depression, a body image disorder and a general sense of not belonging.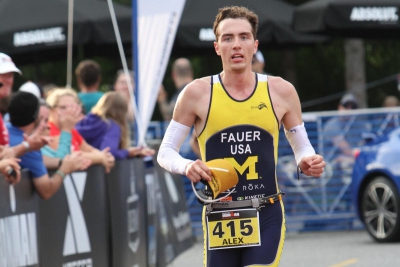 Running on his high school cross country and track teams were a source of solace. When that ended and he came to U-M, Fauer considered trying to live as a straight man. The depression returned and again, Fauer turned to running but this time joining the U-M triathlon team.
As Fauer developed into an increasingly successful athlete, became president of the team, and felt a growing confidence in his nursing career and future as a nursing scientist, he made the decision to fully accept himself. It meant coming out to his family, his teammates and his friends beyond the small circle who already knew the truth.
"I felt like I had to keep so much hidden," he said. "But once I started being honest, I realized just about everything I was afraid of was in my head."
Fauer's disclosure comes as U-M has reinvigorated efforts to improve diversity, equity and inclusion for students and employees.
"It shows that they are paying attention," says Fauer. "Overall, student attitudes are positive, but in general, acceptance and diversity awareness needs to be stronger. We're going in the right direction and it's incredible to see the support from the UMSN and U-M as a whole."
Graduation and a gift
Fauer will be a graduate of the Class of 2017 as U-M is celebrating its bicentennial. To recognize the significant occasion, he and fellow senior Hassan Abbas came up with a plan to create a scholarship from the Class of 2017. The students are currently working to gather donations to launch the endowed fund.
"We want it to be financial assistance for need-based nursing undergraduates," explained Fauer, who expressed gratitude for scholarships and financial support he received from an Alumni Society scholarship and through the Hillman program.
As for Fauer's parents, he says they've come around on Michigan.
"Oh yeah, they're happy now," Fauer said with a big smile. "Like most parents, they just want their kids to be happy and to have good opportunities. I think they see that with Michigan, I've gotten just that."