Student Spotlight: Nursing senior aiming for the Peace Corps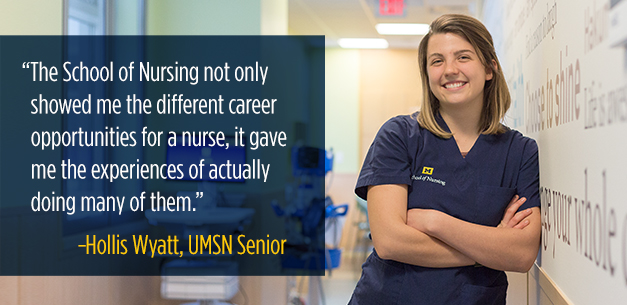 Hollis Wyatt understood the fundamentals of what a nursing career could be, but she was also inquisitive about opportunities beyond traditional paths.
"'You'll definitely have a job when you graduate,' is the first thing most people would say when I told them I was going to nursing school," said Wyatt. "Then some would say, 'there are so many different types of jobs you can have,' and I kept wondering what these mysterious jobs were."
Nearly four years later, and soon to graduate with her BSN, Wyatt understands the incredibly diverse set of opportunities a nursing degree from the University of Michigan offers its graduates.
"The School of Nursing not only showed me the different career opportunities for a nurse, it gave me the experiences of actually doing many of them," she said. "I've worked in a psychiatric ward, watched a baby being born and worked in the community. Now I see that you can teach, do research, work with different populations, in schools, with public health agencies or even work in a different country."
Peace Corps and volunteering
With graduation less than a month away, Wyatt is focusing on putting her UMSN experience to work abroad. She applied to the Peace Corps and has already been asked to interview for a health promotion position in Senegal.
"I've always had an interest in travel and wanting to help people of low socio-economic status," explained Wyatt. "I selected 'place me where you need me,' so I could end up anywhere. The Senegal assignment will likely focus on maternal health care education in a public health type of role. I love teaching and I love kids, so I'm excited about this as a possibility."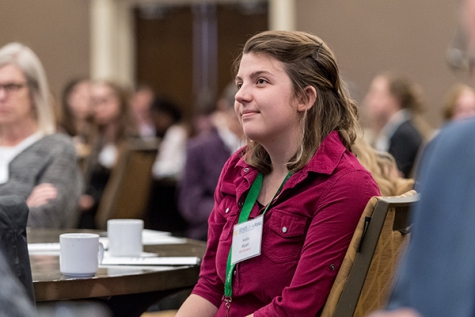 Service to the community is nothing new for Wyatt. She has a long history of participation in mission trips, alternative spring breaks, and volunteering at local agencies including food banks.
Wyatt gained a new perspective on how food-focused agencies play a role in the community during her community health course. Through a partnership with Meals on Wheels, Wyatt and fellow students visited clients in their own homes. In addition to the food delivery, the students conducted health assessments and, when appropriate, worked to connect the clients, who are generally elderly or home-bound, with additional resources.
"Seeing what normal, day-to-day living is for some of these people was surprising," said Wyatt. "I really enjoyed having heart-to-heart conversations with them and getting to know their stories. It was always great to see how even a small gesture could really make their day."
Service on campus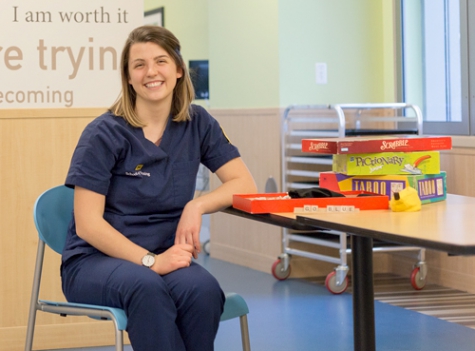 Wyatt's commitment to service is seen within UMSN as a Nursing Student Government (NSG) project manager. Currently the group is working on a pre-class orientation plan to help students at each class level be prepared for the upcoming school year. In addition, she serves as a link between her class and NSG.
Wyatt also took on a new role this year as a Campus Day guide for high school seniors who have been accepted to UMSN.
"They always have so many questions about what college is going to be like," said Wyatt. "I remember being in that position so I always try to give them honest and genuine answers."
After graduation
Graduation is approaching soon for Wyatt, but she'll likely have to wait a bit longer to find out about the Peace Corps. The decision deadline isn't until September. In the meantime, Wyatt plans to spend part of the summer as a camp nurse in Italy.
Wyatt says she's got several other focus areas in mind where she would be happy working, namely community health, mental health, pediatrics or some combination of those possibilities.
"I'd be disappointed if I don't get in to the Peace Corps, but now that I know about so many opportunities for nurses, I feel very optimistic about the future."
Editor's update 10/18/2017: Wyatt was accepted to the Peace Corps and will be leaving for Senegal in February.