Student Spotlight: Advocate for mothers and midwives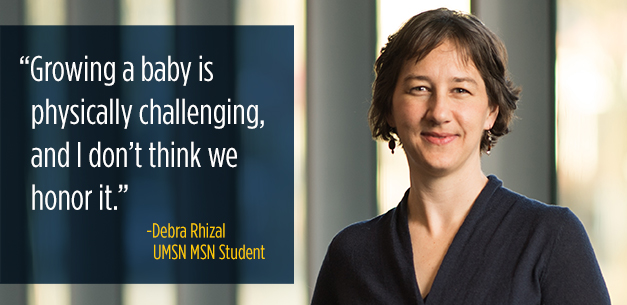 The list of Debra Rhizal's professional accomplishments is long.
She is the owner/operator of Pregnancy Arts in Ann Arbor, which offers childbirth classes and doula services; co-owner of MarasWorld.com, LLC, a website and blog dedicated to providing information and preparation for the childbearing year; certified doula; certified childbirth educator; certified individual and family wellness coach; certified body work healer (reiki and craniosacral therapy), and registered nurse.
Now she is on her way to becoming a certified nurse midwife (CNM), earning her degree through the Nurse/Midwife MSN program at University of Michigan School of Nursing (UMSN).
It's all biology: From environmental science to birth support
A career in midwifery was not on Rhizal's radar, until a project as an environmental science undergraduate student led her to investigate pollution in the water cycle. The project explored the connection between mercury levels in water and the effect it had on women's breast milk, and subsequently their infants. Rhizal left the experience motivated and inspired to dedicate her career to global infant maternal health issues with a focus on environmental justice.
She considered going into law or public policy, but a serendipitous conversation while visiting law schools suggested midwifery. To see if the field was a fit, she became a doula. Doulas assist the birthing mother and provides support to the family after the baby is born.
She fell in love with her work as a doula, and worked as a birth assistant for a midwife for the next 13 years—assisting in a number of home births, particularly in the Amish community of Indiana. In 2010, Rhizal moved with her family to Ann Arbor where she has continued to develop her career in maternal health.
"Through her website, blog and pre-birth classes Deb provides really good evidence-based resources for pregnant people," noted
Ruth Zielinski, Ph.D., CNM, FACNM
, clinical associate professor and her advisor at UMSN.
Empowered pregnancy
Rhizal is motivated to advocate for an empowered experience through pregnancy, one in which women trust their bodies and the process. She admits this motivation is political and feminist in today's world.
"Empowerment is a spiritual state of mind, body and spirit," she believes. "When people are embodied, this is a very individual state, and there isn't a lot of communal space for this," despite the growth in pop culture's high-profile pregnancies, where red carpets routinely highlight baby bumps.
In contrast to Hollywood, Rhizal says she has seen no growth in the idea of pregnancy as a time of beautiful female display among her clients. Instead, she reports seeing less joy, less empowerment through beauty, and less respect for motherhood as female beauty.
"I have seen a growth of anxiety and desire for escape and avoidance of the pregnancy period," said Rhizal. "Generally, we don't have a lot of physical stress or labor in our lives anymore. Growing a baby is physically challenging, and I don't think we honor it."
Anti-family policy
As an advocate in the field of childbearing, Rhizal sees isolation of families with young children and a lack of policy support for childbearing, child-rearing, and early childhood education.
"I don't think our country is set up to deal with the reality of the early childhood years. Our country does not welcome young children in all areas of life. The U.S.'s anti-family policy feeds into low breast-feeding rates and stress of parents. I would love to see those things change," she said.
She hopes for a shift in how Americans talk about what it means to be a mom, a dad, a parent, and a family. There is such a focus on the health issues of pregnancy, but not on the future action – the parenting – that will be required.
"I would like to see an emphasis on the stages of life, moving from one stage to the next," Rhizal said.
Wealth of experience
"Rhizal is not a traditional student, and so has a wealth of other experience and knowledge" that she can draw from, according to Zielinski.
Rhizal estimates that she has over 4,000 hours of labor support under her belt. That experience has taught her a number of very practical and somewhat technical ways to support birthing mothers, and forms the basis for labor support workshops that Rhizal has offered to other students in the CNM program.
Zielinski believes Rhizal is an incredible resources for her fellow students. In addition to providing the workshop for students, Rhizal gave another last year at the U-M Midwives Service Retreat on communication with patients that was really helpful, according to Zielinski.
Value of midwives
Some arguments for the use of midwifery care center on cost-containment: a natural birth attended by a midwife is typically less expensive than a natural birth attended by an obstetrician. But Rhizal says that we should understand midwives have a different and useful skillset and approach, and that there is a time and place for both midwives and obstetricians – one does not replace the other.
"I think we need to show obstetricians that we are really good at helping women navigate the change that they are going through, while respecting their incredible skills as doctors or surgeons," she said.
Differentiating what midwives do from what obstetricians do will help the field gain prominence.
"I am heartened that the shared decision making model is becoming part of medicine," she commented. This is a core practice of midwives.
"I always try to bring the focus back to the woman in my practice as a doula and as a student."
Zielinski believes that Rhizal will remain an "active advocate, politically, for women and for midwifery" after she finishes the program. Rhizal is on track to graduate in April 2018.