U-M School of Nursing to lead national alliance for cancer care
The $15 million effort, funded by the Merck Foundation, will take a multifaceted approach to improving patient-centered care, support and outcomes.
 ANN ARBOR, Mich. – The University of Michigan School of Nursing (UMSN) has been selected to serve as the National Program Office (NPO) for the newly-formed Alliance to Advance Patient-Centered Cancer Care (Alliance). It brings together a coalition of six influential academic health centers to help improve the delivery of care for cancer patients.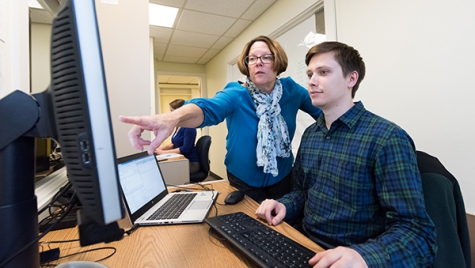 "It's an initiative to advance strategies that have been proven to help patients, through research, by implementing those approaches in real-world settings," explained UMSN Professor Debra Barton, RN, Ph.D., FAAN, who will serve as director of the NPO.
As the NPO, UMSN will lead cross-site evaluations and focus on identifying and disseminating best practices. The NPO will provide technical and administrative support, and be the catalyst to advance successful strategies, with potential for national and international reach.
Program sites are Grady Health System, Johns Hopkins University, Massachusetts General Hospital, Northwestern University, Ohio State University and the University of Arizona.
The new Alliance will focus on several key areas:
Improving the coordination and integration of care, particularly between primary and specialty care
Creating strategies aimed specifically at improving care for vulnerable and underserved populations
Strengthening patient-provider communication
Boosting patient engagement and empowerment
Building sustainable community partnerships
Providing psycho-social care to assist patients with needs beyond treatment such as psychological and emotional concerns.
This psycho-social component will also support the increasing number of cancer survivors.
"There can be a lot of consequences from facing cancer," said Barton. "Some people need continued help and there may be lasting physical effects such as chronic pain and fatigue."
U-M's strength in interdisciplinary collaboration will be incorporated into the NPO. John Ayanian, M.D., M.P.P., a School of Medicine professor and director of U-M's Institute for Healthcare Policy and Innovation will serve as a consultant. UMSN Professor Marita Titler, Ph.D., RN, FAAN, will be part of the evaluation team and the U-M School of Social Work's Curtis Center, will serve as the cross-site evaluation team, led by Ebony Reddock Ph.D., MPH. Curtis Center efforts will focus on documenting and assessing the overall performance and impact of the alliance initiative, as well as support the NPO's efforts in providing technical assistance.
Barton believes this five-year effort has the potential to make a long-lasting impact, including policy implications.
"If we can show certain strategies are successful in communities, it would be very exciting to think about expanding them to the next level," she said.
UMSN Contact: Jaime Meyers, (734) 764-7006