Off the clock: Administrative assistant by day, comic book artist by night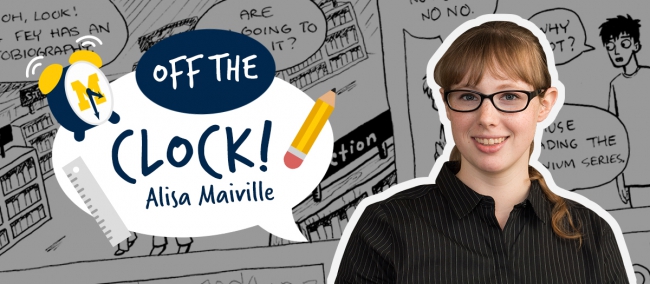 "There are a lot of misconceptions that comics are only about superheroes," explained Alisa Maiville, a UMSN faculty support administrative assistant intermediate. "But they can really be about anything."
Maiville, a fine arts major, discovered her talent for creating comics during a class at Michigan State University. The new interest led to an autobiographical weekly web comic, a self-published mini-comic sold at a comic book store near campus and inclusion in an MSU Student Comic Art Anthology.  In 2011, her work was also featured in juried exhibition, "Seriously Funny," at Women Made Gallery in Chicago.
The Lansing native switched her career focus to administration, but found ways to combine her interests when she worked at the Chesterton Tribune in Indiana. During her five years with the newspaper, Maiville's holiday illustrations were published in the annual Thanksgiving issues.
While comics have a reputation of being created by and for men, Maiville says that hasn't been an issue for her. In addition, popular movies with comic book roots, such as Batman and The Avengers, are credited with increasing female interest in comics, which has led to more female writers and artists in the industry.
A dark-humor comic collaboration is the current focus of Maiville's avocation. She creates the illustrations and a friend does the writing. Maiville says, "It's like the movie, The Moneypit, where they are fixing up a house, but this is about a billionaire buying an island."
Maiville says that project is still in the early stages but she plans to self-publish and print it when ready.
Enjoy a few of Maiville's comics