Student Spotlight: Leadership through action and outreach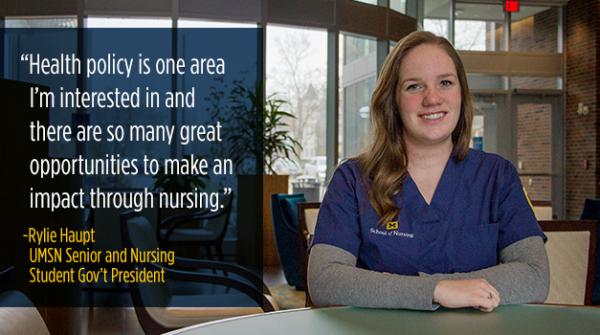 "When I was starting nursing school I was hesitant about getting involved in extracurricular activities because I knew the demands of the program would be really tough," explained Rylie Haupt, president of the University of Michigan Nursing Student Government (NSG). "But that didn't last long," she added with a laugh.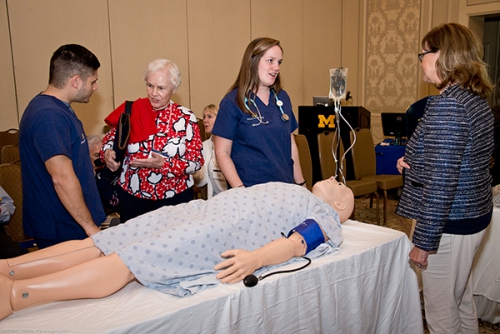 Instead, Haupt embraced the opportunity to get involved in leadership and service opportunities just as she has done previously. In fact, one of her high school experiences helped shape her decision to pursue nursing as a career.
"I was always interested in a health science career and have several family members who are in health fields, including several nurses, but it was when I volunteered at a nursing home that I knew I wanted to be a nurse," she said. "I found I really liked the aspect of caring for people." 
Leadership at UMSN and on Campus
When Haupt arrived at the U-M School of Nursing (UMSN), she joined NSG as a freshmen class representative, moved to its executive board as a sophomore, and served as vice president of operations her junior year before assuming the role of president as a senior.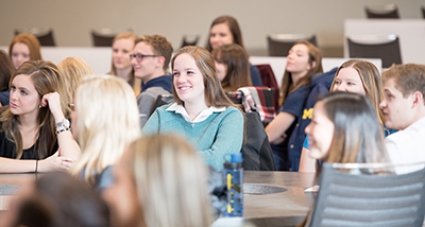 Through her role as president, Haupt serves as a liaison between UMSN faculty and students, and as the nursing representative on the University Council, a committee led by U-M Central Student Government. NSG activities include outreach to local high schools to promote nursing as a profession and philanthropic projects such as a toy drive for Mott Children's Hospital. In addition, NSG is developing a mentorship program to partner incoming students with upperclassmen.
Haupt is also part of the Student Wellness Initiative, an effort led by nursing students to promote the mental and physical health of their peers. The group is currently adding a focus on safety. Many nursing students begin their clinical shifts in the early morning hours, sometimes before buses are running, so the group is developing plans for walking groups.
While Haupt may have natural leadership talents, she credits the UMSN Honors Program for teaching her how to apply those skills in a professional setting.
Next Steps
Now just a few months from graduation, Haupt says she's hoping to find a job in a critical care unit. She says a summer internship in a surgical intensive care unit helped her find her focus area.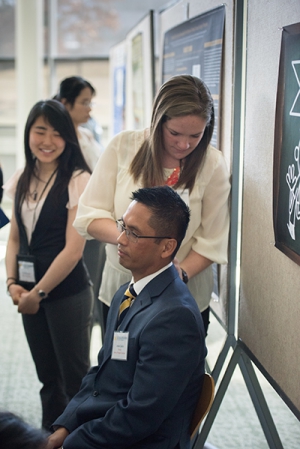 "I like that critical care forces you to think deeper," she explained. "During my internship, I witnessed an emergency sternotomy at the bedside where they literally cut the patient's chest open and I saw the heart beating. I knew then that's where I wanted to be. You're held to really high standards and I enjoy the challenge."
Haupt plans to practice for a few years to gain experience and then return to nursing school for a graduate degree. While she doesn't know what activities she'll pursue when she makes the transition from student to nurse, she does expect to get involved in the professional community.
"We need more nurses who are willing to step up," Haupt said. "Health policy is one area I'm interested in and there are so many great opportunities to make an impact through nursing."