Student Spotlight: Passion for patient safety inspires pursuit of DNP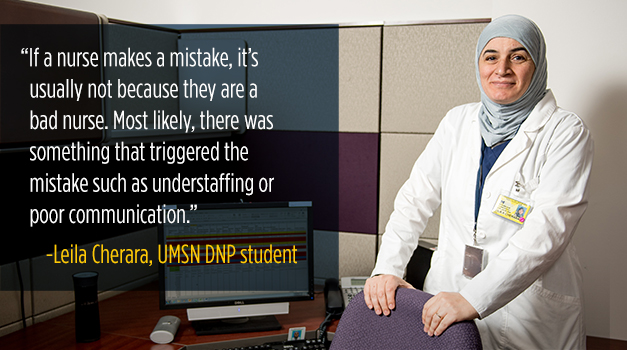 Leila Cherara knows that mistakes happen in hospitals. As a nurse with more than 20 years of experience, she's seen them happen and cared for patients who suffered complications from an error. Cherara hasn't been immune to mistakes during her career either.
"If a nurse makes a mistake, it's usually not because they are a bad nurse," Cherara explained. "Most likely, there was something that triggered the mistake such as understaffing or poor communication. If a nurse is in an environment that is substandard, they will be more prone to making a mistake."
While Cherara understands why mistakes happen, she's more interested in solving the problem, instead of making excuses—an attitude that inspired her to dedicate her career to patient safety.
Taking Action
Cherara realized she could make a greater impact in patient safety if she was in a hospital leadership position, such as a patient safety nurse manager. That type of position requires an advanced degree, so she returned to school. Cherara earned a master's degree with a focus on patient safety and then enrolled in the University of Michigan School of Nursing's (UMSN) Doctorate of Nursing Practice (DNP) program.
Through UMSN's DNP program, Cherara found an ideal organization to partner with to support her goals of advancing patient safety. She's fulfilling her DNP residency credits at the Veterans Affairs National Center for Patient Safety (NCPS), based in Ann Arbor.
Gary Sculli, a UMSN adjunct professor and NCPS's Director of Clinical Training Programs and Patient Safety Program Manager, is Cherara's preceptor. Working with Sculli gives Cherara the opportunity to learn about NCPS efforts to reduce and prevent harm to patients. Patient safety managers from VA hospitals around the country actively participate in NCPS work, creating a data-rich environment.
Merging Education and the Real World
Cherara is focusing on fall prevention for her DNP Scholarly Project. She began her project by assessing the level of patient safety awareness in a local neurology unit. Now she is implementing a training initiative that includes developing a fall prevention team. Cherara also created a module with the latest evidence-based literature and simulations of fall scenarios for the unit.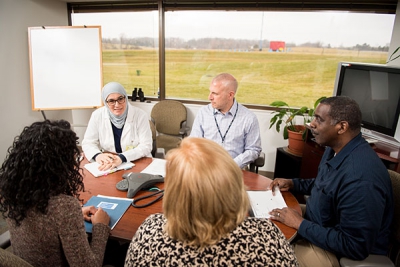 After that work is done and the prevention team is implemented, Cherara will reassess the unit to see if there are increases in the staff's knowledge and behavior of fall prevention.
"It's important to create a patient safety culture where everyone in the hospital has a heightened awareness of preventing errors," she said. "It doesn't mean mistakes won't happen, but everyone needs to be part of the culture. That means taking action if you see a spill, or if a subordinate sees a supervisor doing something wrong, they feel comfortable enough to speak up."
Setting an Example
Cherara also teaches clinical nursing courses at Oakland University and Henry Ford Community College, in BSN and Associate degree programs, respectively. She says she's proud to be an example of lifelong learning for her students.
"I tell them, 'Don't stop here. A BSN is the minimum degree you should have,'" said Cherara . "They have to promise me they'll continue their education."
Making it Work
Cherara is now in the final semester of the DNP program. She is very matter-of-fact about managing her responsibilities at work and home with her education. She says setting priorities at the start of the DNP program helped her stay on track.
"Take the time to plan the best way to accomplish your degree," said Cherara. "Don't be afraid to reach out for support and also, take care of your health. If you do that, it can be done."