Student Spotlight: Tri-Citizen Senior is Changing Cultural Expectations through Example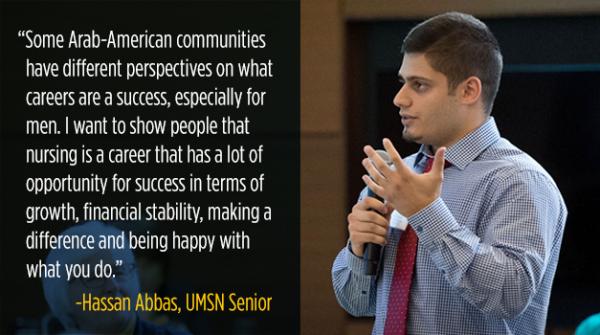 Unlike many nursing students, it wasn't a personal experience or a family member's example that motivated Hassan Abbas to pursue a nursing career. The son of an engineer took an analytical approach.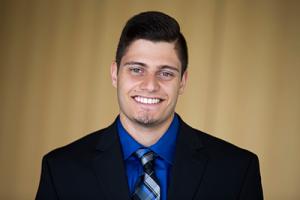 "I knew I wanted something with a lot of options," said Abbas, a University of Michigan School of Nursing (UMSN) senior. "I started researching careers and liked that nursing had different things you could do in patient care, research, advanced practice and even business. I like to think of myself as a forward thinker and I really feel like nursing is a forward-moving profession."
It didn't take long for Abbas's heart to follow his head. He said he knew he had made the right choice during his first clinical experiences.
"You could see the impact you were making on patients," said Abbas. "The decisions you made, the medications the nurses were giving, even just your presence at the bedside made a difference and I ended up falling in love with nursing. It was definitely the right choice."
Cultural Expectations
Abbas is Lebanese and said he knew his career decision would come with a certain amount of scrutiny. "Some Arab-American communities have different perspectives on what careers are a success, especially for men. I want to show people that nursing is a career that has a lot of opportunity for success in terms of growth, financial stability, making a difference and being happy with what you do."
Abbas says while he doesn't let his ethnicity and Muslim religion define him, he does feel pressure to be a positive role model. That's one reason Abbas volunteered to be part of a UMSN panel event focused on Arab Americans and Muslim Americans in health care.
"The most important thing I could say to fellow nursing students is be open minded," Abbas said. "You may have read certain things in a textbook, but each person is different. Your patient could follow some of the religious or cultural guidelines or none of it. You don't know until you talk to them."
Abbas says taking the time to understand and get to know other people is a lesson he learned from observing his parents. They moved from Lebanon to Toronto, Canada, where Abbas was born, before settling in Dearborn Heights, Michigan, when he was a young child.
"My dad would always talk to people whenever we went out," explained Abbas, who has Lebanese, Canadian, and American citizenship. "When I was little, I would think, 'Dad, cut it out.' Now I realize he had the choice of staying in his small community but he wanted to get to know other people."
Getting Involved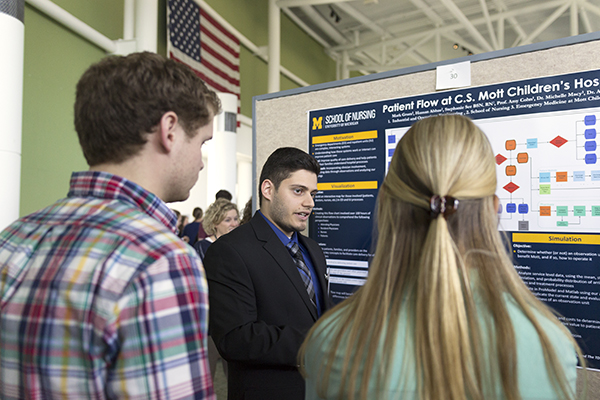 Abbas is one of UMSN's most actively involved students. He serves as vice president of the Nursing Student Government and helped launch the Student Wellness Initiative which focuses on making sure fellow nursing students are taking care of their mental and physical health.
In addition, Abbas is a frequent volunteer for UMSN's Office of Development and Alumni Relations. He's spoken to fellow undergraduates at Telefund, U-M's student fundraising program, about the positive impact his scholarship has had on his education. He also shared that message with alumni and worked on various plans to connect alums with current students for networking and mentorship opportunities.
Looking Ahead
Abbas says he would encourage future students to get involved and keep their options open. "There are a lot of non-conventional ways to do nursing, he said. "Exploring them is really important. I think that's what is special about this school. They give you options and you see that there are a lot of routes that will help you figure out what you want to do."
Now just a few months from graduation, Abbas says he hopes to work in an intensive care unit. He plans to gain a few years of work experience then return to school for an advanced practice degree.