Faculty Impact: Preventing Sexual Assaults on Campus and Beyond through Research, Technology and Outreach
"I was working in a clinic and realized there was a big disconnect in what sexual assault survivors wanted and what we were providing," said Michelle Munro-Kramer, PhD, CNM, FNP-BC, a University of Michigan School of Nursing (UMSN) assistant professor.
The realization prompted Dr. Munro-Kramer, a midwife with established interests in reproductive health, to expand her focus area. She wanted to better understand the decisions of survivors and their behaviors around reporting the incident, seeking health care services such as sexually transmitted infection testing, and using social services including counseling.
She returned to UMSN, where she had earned her master's degree, as a PhD student and began volunteering at U-M's Sexual Assault Prevention and Awareness Center (SAPAC). That experience sharpened her interest in finding ways to prevent the assaults from ever happening.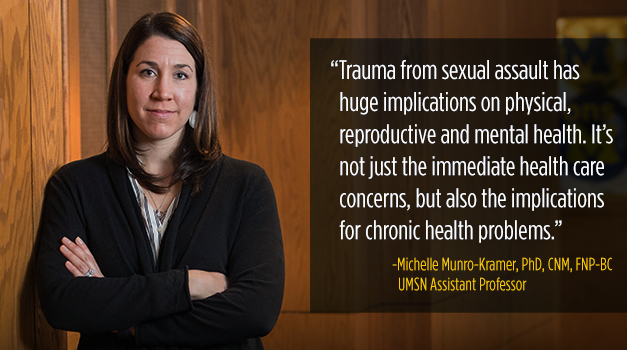 REACHING STUDENTS
Now as UMSN faculty, Dr. Munro-Kramer has teamed up with SAPAC and the University Health Service Sexperteam to connect with U-M freshmen through Relationship Remix. It's a workshop designed to help students make sexually-based and life decisions that are true to their values, develop communication and consent skills, cultivate healthy relationships, and gain awareness of campus and local resources.
Another significant element of awareness is helping students understand exactly what is considered sexual assault. "Many people think of it only when a stranger drags the victim into the bushes," said Dr. Munro-Kramer. "But when you talk to people about what happened to them and use language such as 'unwanted' or 'forced,' they see it does fit the definition of sexual assault."
Dr. Munro-Kramer also developed an elective course, "Women's Studies 404/Health Sciences 404: Gender-based Violence: From Theory to Action." Beginning in 2015 and now in its third year, the course comes with an opportunity for students to earn an extra course credit and experiential learning experiences through volunteering at SAPAC or other local sexual assault survivor support agencies. Dozens of students participated resulting in a significant increase of SAPAC volunteers.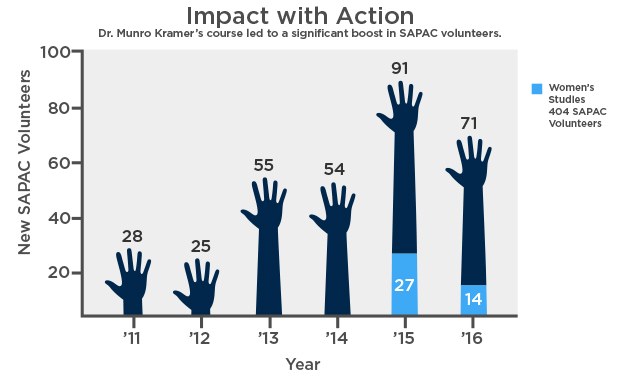 Why is nursing involved?
"Trauma from sexual assault has huge implications on physical, reproductive and mental health," said Dr. Munro-Kramer. "It's not just the immediate health care concerns, but also the implications for chronic health problems. It's important for nurses to recognize the signs of violence, improve screening and know how to best use trauma-informed care to help the patient with the next steps."
International Reach
Michigan's Relationship Remix is getting noticed by other campuses around the world. Dr. Munro-Kramer is adapting the program for the University of Cape Coast in Ghana. "We needed to make changes to address cultural differences," she explained. "Alcohol is less of a factor in assaults compared to the United States but they have a big problem with gender inequality."
Dr. Munro-Kramer and a team of interdisciplinary faculty and students representing nursing, social work, public health, and medicine will travel to Ghana during U-M's 2017 spring break to share the modifications and to train local students how to deliver Relationship Remix. The work recently received funding from U-M's International Institute to defray travel costs for the students. Similar efforts at the University of Cape Town in South Africa are in the early stages.
Using Technology
Dr. Munro-Kramer believes it is important to modify strategies to reach the people they are trying to help. That means using technology, more specifically smart phones and apps, to connect with students.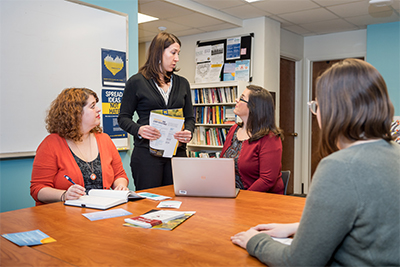 iCON is an app developed by researchers at the UMSN's Center for Sexuality and Health Disparities to link sexual and gender minority youth to local health and social services. Dr. Munro-Kramer is modifying the app to provide resources for sexual assault survivors and to help students develop life skills aimed at prevention.
"The app will tailor the information based on input from the students," explained Dr. Munro-Kramer. "They'll answer a few questions and that will guide them to the resources they are looking for, such as how to report the incident or to find counseling."
While Relationship Remix targets students in their first few weeks on campus, the app is intended to be an ongoing resource. The project recently received financial support from the State of Michigan as part of the state's "Inform. Empower. Prevent. Let's End Campus Sexual Assault" initiative.
Human Trafficking
While prevention of sexual assaults has become a significant component of Dr. Munro-Kramer's research, her work is grounded in helping survivors, especially those who have endured extreme trauma.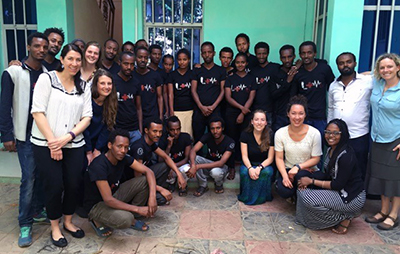 Dr. Munro-Kramer and a team of undergraduate and graduate nursing students are working with U-M's Law School to set up a clinic for survivors of human trafficking in Ethiopia. The nursing group is building a database with critical information about survivors seeking services at U-M's Human Trafficking Clinic including their health care needs and their actions while recovering.
 The long-term goal for the clinic is to provide comprehensive services that include everything from immediate health care services to practical necessities such as obtaining a driver's license.
The Next Steps
"I see a lot of positive action on our campus and many other campuses," said Dr. Munro-Kramer. "There's a long way to go but it's encouraging to see U-M supporting initiatives, different disciplines getting involved and high student interest."
Resources