UMSN Researchers on the Frontline in the Global Fight against HIV/AIDS
World AIDS Day
The fight against HIV/AIDS takes center stage around the globe for World AIDS Day each year on December 1st. It's a day to fight stigma, honor lives lost to the disease and raise awareness of related health care challenges and advancements.
Leading HIV/AIDS Research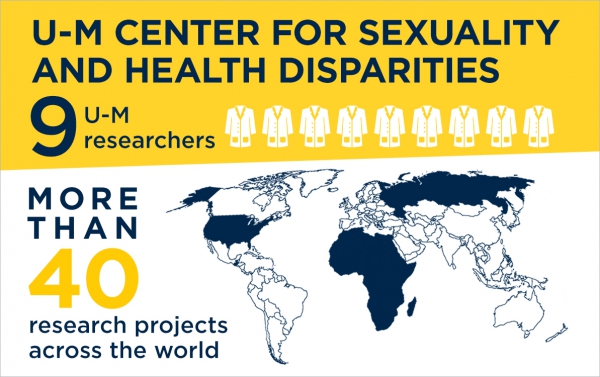 The University of Michigan's
Center for Sexuality and Health Disparities
is at the heart of U-M research efforts to prevent HIV/AIDS, encourage testing, and support people living with the disease. Based at the U-M School of Nursing, the center is home to the collective efforts of more than 30 researchers including faculty, staff and doctoral students from nursing, public health, medicine and other disciplines. The talented team is working on more than 40 innovative projects in 12 countries from the United States to Kenya.
There's Project Nexus which is examining the impact of online video counseling for people who use an at-home HIV testing kit. Together Tomorrow is the first ever study of male couples in Africa. The researchers are working with local LGBT communities in South Africa and Namibia to better understand their HIV prevention needs. Affirming Voices for Action is a project dedicated to understanding the experiences and needs of transgender and gender nonconforming youth. This work includes improving the continuum of care and understanding barriers to health care for patients.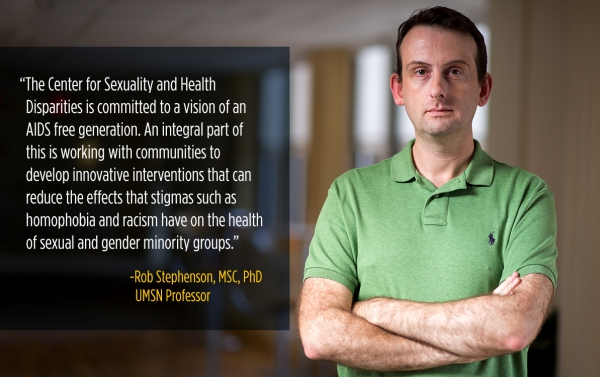 U-M School of Nursing (UMSN) Professor
Rob Stephenson, MSC, PhD
, serves as director of the center, overseeing the collaborations on research, training, interventions, and community partnerships. Much of the work includes battling stigmas and misconceptions, especially those that threaten health.
"Gay men and other men who have sex with men are the only risk group in the U.S. experiencing an increase in HIV infections," said Dr. Stephenson. "Over the past four decades of the epidemic, HIV has been messaged as driven by unsafe casual sex. However, recent studies show that (up to) two-thirds of new infections, in fact, come from main partners."
Akshay Sharma, MBBS, MPH, PhD,
a UMSN assistant professor, is focused on increasing both testing frequency and options. "Traditional options include testing at medical facilities such as a physician's office and individual voluntary counseling and testing offered at community-based organizations," he said. "More contemporary approaches include couples' HIV testing and counseling and rapid home HIV self-testing."
Lynae Darbes, PhD
, a UMSN associate professor, is currently conducting several couples-focused studies. "Working with couples can be an effective way to make an impact in HIV prevention. For example, projects at the Center for Sexuality and Health Disparities are working with gay male couples and heterosexual couples in the USA and Africa and focusing on relationship dynamics such as commitment and communication to engage couples in efforts to both lessen the chance of HIV infection as well as improve treatment outcomes for those who are HIV-positive."
While HIV/AIDS and other sexual health concerns are a primary focus of the center, the team also works on matters of social justice, access to care, and health disparities on a broader scope.
Experts Advisory:
Learn More
Dr. Stephenson is:
Co-leading a nine million dollar HIV prevention intervention called iCON which offers life skills training and community-based HIV prevention resources through an online app
Part of an NIH-funded team working on a web app to encourage adolescents to participate in routine testing for sexually transmitted infections
A new member of the World Health Organization (WHO) Scientific and Technical Advisory Group (STAG) in the Department of Reproductive Health and Research. STAGs function to provide guidance on research, review progress, recommend priorities and advise on the allocation of resources.