Program Spotlight: Filling a Need and Producing Highly Sought Graduates through UMSN's Acute Care Pediatric Nurse Practitioner Program
"I knew I wanted a more involved role as a health care provider; I was working in a pediatric intensive care unit and loved the science and high acuity of that patient population," says University of Michigan School of Nursing (UMSN) alumna Rachael Crowe, MSN, RN, CPNP-AC.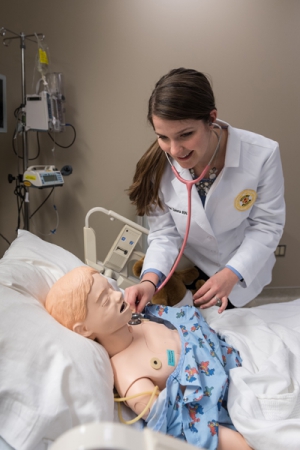 She earned her BSN at U-M and decided to further her education, training, and skill set with a master's degree. "The acute care pediatric nurse practitioner program felt like a perfect fit."

High Demand
Finding skilled graduates who can excel in specialty nursing positions is a growing challenge for employers. The U.S. Department of Labor predicts "much faster than average" growth of 31% between 2014-2024 for advanced practiced registered nurses which includes nurse practitioners, anesthetists and midwives.
"There is a high demand for nurse practitioners who can care for young patients with acute, critical and chronic illnesses," says Kathryn Nelson, DNP, RN, CPNP-AC/PC,a UMSN clinical assistant professor. To meet that need, UMSN established its Acute Care Pediatric Nurse Practitioner (ACPNP) master's program in 2013.
Employers Taking Note
UMSN's program boasts a 100% pass rate on the first attempt for graduates taking board exams and Dr. Nelson says the strength of U-M students has been noticed by prospective employers.
"Our ACPNP graduates received job offers from top children's hospitals and they are now working at hospitals across the country," she says. "Our graduates are employed in a variety of pediatric specialties including intensive care, cardiology and cardiac surgery, hematology and oncology, and emergency."
Michelle Dwyer, MS, RN, CPNP-AC, now an ACPNP at Helen DeVos Children's Hospital in Grand Rapids, MI, was the first graduate of the program.
"I enjoyed the individualized attention and the opportunity to have many different clinical experiences," says Dwyer. "Dr. Nelson helped me grow into being a nurse practitioner. Also, I was very happy I was able to attend full time and not be on a waiting list for clinical placements."
The Michigan Difference
Dr. Nelson, who serves as lead faculty for the program, says the support and experiences for students are significant factors in setting UMSN's program apart from peer schools.
"We place a high value on experiential learning," she explains. "One of the unique components of the program is real-to-life clinical simulations. We support the development of the knowledge and hands-on skills needed by ACPNPs, but also the interpersonal and soft skills they will need to support patients and their families through difficult diagnoses, treatments, and outcomes. Many schools require the students to set up their own clinicals, but our program does it for them and we have incredible preceptors (clinical mentors) so the students get the best experience."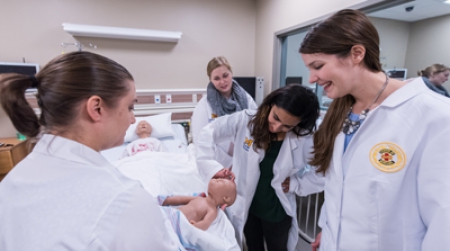 Dr. Nelson also credits the students themselves for the success of the program. "Michigan attracts good students so we consistently have a great candidate pool," she says. "They bring different elements of diversity to the program including various work experiences. In addition, about 10-15% of the students in the program are international students and I'm consistently impressed with the sacrifices they make to attend."
Crowe, now working as a pediatric critical care nurse practitioner at Children's Hospital of Philadelphia agrees the program has the right mix of structure and customization. "The program began with classes like pathophysiology and pharmacology at a higher level with more critical thinking," she explains. "The classes towards the end of the program helped shift my thinking from a bedside nursing perspective to the perspective of a nurse practitioner. Along the way, I learned so much through hands-on practice in simulations and in my clinical rotations."
"The wide variety of clinical placements allowed me to see how many different roles a nurse practitioner could have," agrees Dwyer. "The course work gave me a solid understanding of general pediatric acute care which I have been able to apply to my specialty of pediatric cardiac surgery and cardiology."
Future Students
Dr. Nelson says she's eager to see the program grow and looks forward to welcoming each new class. "Students should have a passion for pediatrics," she says. "It's also helpful if they have solid pediatric experience. If they don't, we'll make sure they get it while in they're in the program."
Dwyer admits the program is not easy and that it takes dedication, but encourages interested students to move forward with an open mind and a plan for success.
"You never know what you will learn or if you will find your niche is something you have never thought of," she says. "This is a difficult program and much of my time was dedicated to studying and clinical work. Having a study plan, schedule and friends to study with was very helpful and contributed to my success."
The application for UMSN's ACPNP program is open until Jan. 11, 2017. The ACPNP program can be completed as an MSN, DNP, or Post-Master's Advanced Practice Certificate.
For questions, please contact UMSN-MastersAdmissions@med.umich.edu.
Related News
Learn how students in the ACPNP program are advancing health IT by adding electronic health records to clinical simulations.