Midwifery Lecture Brings Touching Full Circle Moment for UMSN Associate Dean
8th Annual Terri Murtland lectureship and scholarship honor midwifery pioneer.
It's been more than 30 years since the University of Michigan Health System launched its Nurse-Midwifery Service. It's considered a model for programs across the country, and much of the credit for its successful foundation centers on midwife Terri Murtland.
Murtland was widely respected for her clinical skills and her mentorship towards students and novice nurses. She passed away from cancer in 2008 but her role as a mentor made a lasting impression on many people. This year's lectureship recipient shared why being selected to give the lecture was a privilege with personal meaning for her.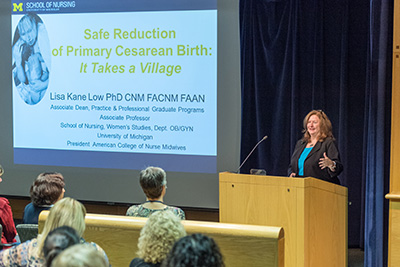 "Terri was an amazing woman who I am greatly indebted to," Lisa Kane Low, PhD, CNM, FACN, FAAN, told the audience as she began her presentation. "I can't say enough about how she supported me when I was a young nurse and not even a midwife yet. She showed me both the challenges and great joys that come with being a midwife. It's a deep honor to be able to do this."
The auditorium at U-M's C.S. Mott Children's Hospital was filled to capacity to pay tribute to Murtland and to hear Dr. Kane Low's lecture, "Reducing the Primary Cesarean Birth Rate: 'It Takes a Village.'"
"We are the only developed country that has rising rates of maternal mortality," said Dr. Kane Low, UMSN's Associate Dean for Practice and Professional Studies, president of the American College of Nurse Midwives, and associate professor of Women's Studies and in U-M's Department of OB-GYN.
Dr. Kane Low shared why she is an advocate of evidence-based changes to build a maternity culture that values physiologic births, provider education to maximize the likelihood of a vaginal birth, and improved collaboration among all members of the maternal care team. She also stressed the importance of strong patient engagement and shared decision making.
Dr. Kane Low explained how collaboration and interprofessional education are helping to position U-M as a continued leader in maternal care.  "We are working so all members of the team have a shared language and are synergistic instead of competitive," she told the crowd. "A real contribution to success has been the evolving role of collaboration and interprofessional education that became possible when midwives were fully integrated into Department of OB-GYN as equal members of the team."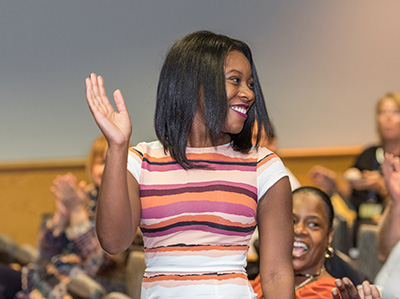 Murtland was also an exemplary educator and strong advocate of the need for a midwifery education program at U-M and was a part of the team that helped launch the program in 1990.  That's why her mother, Audrey Murtland, established a scholarship in Terri's name in addition to the lectureship.
The 2016 recipient, Dajai Livingston, was announced before the lecture. She is a student in UMSN's Nurse-midwifery program and currently works as a registered nurse at Hutzel Women's Hospital in her hometown of Detroit. "I am very grateful for the Terri Murtland Midwifery scholarship because financial assistance reduces the burden of student loans and helps me focus on educational goals," says Livingston.

After the lecture, Livingston and Dr. Kane Low shared a fond moment recalling one of their first interactions. Livingston had approached Dr. Kane Low after an undergraduate women's studies class to express her budding interest in midwifery. Dr. Kane Low helped set up an opportunity for Livingston to shadow midwives at U-M which cemented Livingston's goal. Livingston is in the final year of the midwifery program and will realize her dream in May.
 "After graduation, I plan to deliver family-centered care, establish continuity in care with my patients, collaborate with interdisciplinary teams to improve health outcomes, assume leadership responsibilities to shape my nursing practice, respect cultural variations and life experiences and accommodate the needs of my patients to make their experience memorable," says Livingston.
Livingston credits her mother and grandmother for encouraging her to set high goals, pursue higher education, and be a positive force in the world. Livingston says her long-term goal is to open her own clinic to provide primary and preventative services to underserved populations.