UMSN's Annual Community Health Immersion in India Expands Interprofessional Education
The experience gives students an in-depth understanding of health care in India through comprehensive immersion.
"This trip strongly influenced my view of global health because it opened my eyes and mind to some of the reasons why different cultures function the way they do," says Molly Cocco, one of 17 University of Michigan students who participated in a global health immersion in India.
The students from U-M's School of Nursing (UMSN) and College of Literature, Science and the Arts (LSA) spent two and a half weeks exploring different facets of health care in India. The experience is part of a UMSN community health course, so in addition to traditional health care activities such as tours of government hospitals and health clinics, the students also spent significant time at community organizations and schools.
Community and Health Connections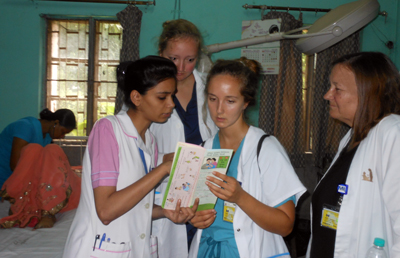 The students saw examples of how community health challenges can impact other areas of life such as education. For example, many government secondary schools in India do not have bathrooms so girls usually stop going to class when they reach puberty. Non-governmental organizations like the Rotary Club are working to change that through an effort to build 100 bathrooms at schools in the district of Agra. The U-M students visited a secondary school with a newly-installed "toilet block" and heard from female students how it is helping them continue their education.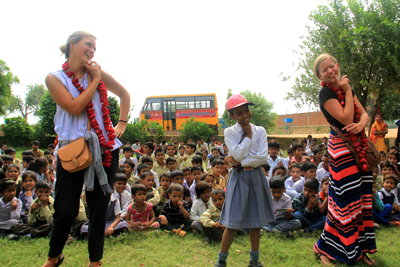 A favorite experience for many of the U-M students was the visit to CEQUIN (Centre for Equity and Inclusion), a community organization dedicated to empowering women and girls. In addition to health, they focus on violence prevention, education and economics. Nursing student Cocco said she found the organization inspiring. "The way CEQUIN is involving the whole community, not just women, is a groundbreaking move I hope we can incorporate in our own communities and campus," she says.
New Perspectives
The diversity of the activities and the participants themselves reflects U-M's increasing efforts towards interprofessional education. "Working with nurses was a great experience," says LSA student Ivan Montoya. "As a Global Health and Environment student, I'm taught to view health through the rights paradigm, and nurses are trained in a more scientific and technical aspect. This opened up a lot of dialogue, especially in terms of India's universal health care system."

Both of the trip leaders, UMSN Clinical Instructors Norma Sarkar, MPH, RN, and Amber Dallwig, MSN, RN, say the students took an active role in collaborating with their peers. "They wanted to work together," says Dallwig. "The LSA students have a mix of career interests, including pre-med, global health, and international studies. Their group and the nursing students wanted to learn from each other and experience another side of health care. It was great to see."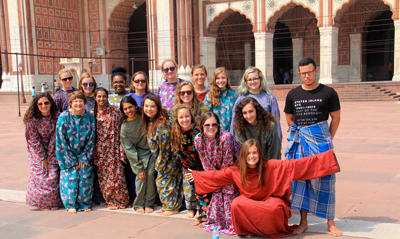 Montoya brought a unique global perspective due to his family history and he said the experience appealed to his evolving focus area. His family emigrated from Colombia to Miami, FL when he was a young child. His mother was a nurse and his father was a physician, so when Montoya was growing up, he thought he'd follow a similar path. That changed when he started college. "The more I started learning about health systems in different countries, human rights, and health disparities, the more I started leaning towards global public health," he says.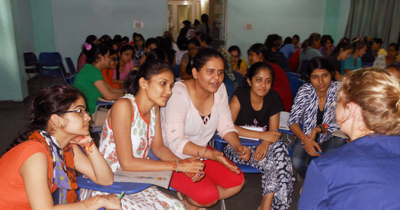 A significant portion of the experience was based at Salokaya College of Nursing where the U-M students learned about nursing education in India and partnered with the Salokaya students for activities such as community health projects, rotations at local health agencies and home visits.
Salokaya brought another element of U-M education to the experience. The founder, Jayaa Singh, is a 2004 MBA graduate of Michigan's Ross School of Business.
This annual experience is organized in partnership between UMSN and U-M's Center for Global and Intercultural Study.
Cocco says it's an opportunity interested students shouldn't miss. "Your suitcase can only weigh 50 pounds. Leave your fears at home and go."
See more photos on UMSN's Facebook page (you do not need an account to view photos).