Welcome, Dean Patricia D. Hurn
"I am honored to serve as dean of this extraordinary nursing school," says Patricia D. Hurn, PhD, RN. Her five-year appointment as dean and professor of the University of Michigan School of Nursing (UMSN) was approved by the U-M Board of Regents in May 2016, effective August 1.
"UMSN has a world-class community of faculty, staff, students and alumni," says Dean Hurn. "Our nation is facing unprecedented health care challenges and I feel privileged to continue and advance the mission of UMSN to meet those needs. Through research, practice and service, our community can and will make a difference around the world."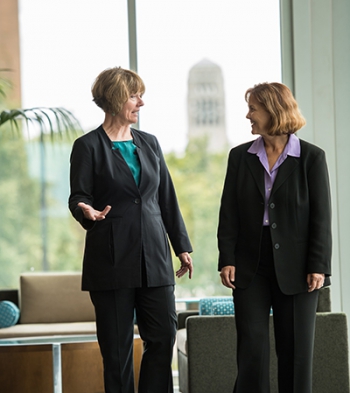 Research and interdisciplinary education are two of Dean Hurn's strongest areas of commitment. "We are part of an incredible network at U-M," says Dean Hurn. "There is growing collaboration with our peers in the U-M health science schools and we have international partnerships dedicated to advancing health care for all."
Dean Hurn joins UMSN from the University of Texas System where she served as the chief health research officer for the system's academic health centers and universities in her position as vice chancellor for research and innovation.
Dean Hurn began her career at the Johns Hopkins University where she earned a PhD in physiology and post-graduate training as a translational neuroscientist. She is quick to point out that her research interests and passion for biological sciences arose from her clinical work as a critical care and trauma nurse. Her scholarship centers on the cellular and molecular mechanisms of experimental stroke and cerebrovascular disease. She is internationally known for her studies of sex differences in recovery from brain injury, with an emphasis on how stroke evolves in women. Dean Hurn has been the principal investigator on more than $20 million in grant-supported research.
Dean Hurn replaces Dean Kathleen Potempa, who stepped down as dean after 10 years of leadership but will continue her research at UMSN.
"I'm looking forward to getting to know the UMSN faculty, staff and students who are part of this vibrant school," says Dean Hurn. She plans to hold a series of informal events to answer questions, listen to concerns, and become better acquainted with UMSN community members.