UMSN Opens New Building: 124 Years in the Making, All About the Future

Update: September 18, 2015, Ann Arbor, MI – University of Michigan School of Nursing (UMSN) students began the 2015-16 school year in a new building designed to foster engagement and prepare them as leaders who can transform health care. 
"Every classroom and every space for clinical simulations, labs, lectures, studying and meetings was approached with the intention of enriching the learning experience for our students," says Kathleen Potempa, PhD, RN, FAAN, dean of UMSN. "They now have what it takes to become leading nursing scientists, educators and paradigm changers."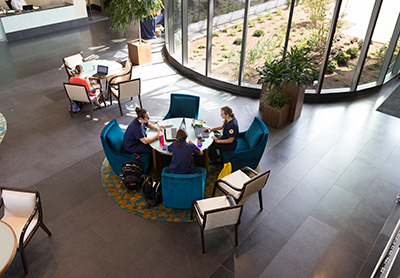 On September 18, 2015, to celebrate the grand opening of the new building, UMSN hosted a ribbon-cutting ceremony (watch the short video), followed by an open house. U-M President  Mark Schlissel was the first guest speaker at the event. He began by thanking Dean Potempa for strong leadership at the school, noting: "I just heard you've been waiting for this building for 124 years!" President Schlissel said that seeing so many alumni and supporters showed that "the Michigan family is stronger than ever."
Shauna Ryder Diggs spoke on behalf of the U-M Board of Regents, which she chairs. She praised the nursing faculty for the ongoing excellence of the "Michigan nurses" that they prepare. Alumni examples she referenced include Autumn Augustine, BSN '15, who rose to the top leadership in the U-M ROTC during her senior year, and Joanne Disch, PhD '85, who recently finished her term as president of the American Academy of Nursing. 
Also speaking at the grand opening were U-M Provost Martha Pollack, UMSN alumna Deborah Gross (currently an endowed chair in psychiatric and mental health nursing at Johns Hopkins), UMSN senior Chris Plampin, and Dean Potempa.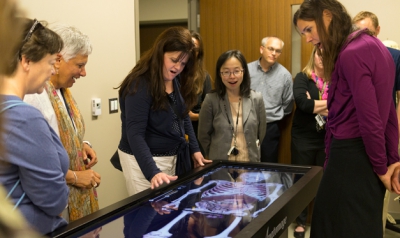 INSIDE THE NEW BUILDING
A vital component of a nursing student's education is hands-on experience. The expanded and cutting-edge Clinical Learning Center (CLC) at UMSN now offers state-of-the-art anatomy and skills labs, exam rooms, standardized patient suites and high-fidelity manikins. UMSN faculty and staff teach all simulations as if they involve real-life patients with real medical and personal histories. After each exercise, students engage in group debriefing sessions to discuss their decisions and actions.
The technology-rich building has hybrid classrooms that allow faculty to lead traditional classes but also transform the spaces for collaboration and active learning in groups at digital media stations.  With modular desks and group computing stations connected to front display screens, the "flipped classroom" models encourage student engagement and discourse, which leads to better understanding and retention of the material. 
Students are able to create and share digital media and learning tools that inspire discussion and creative approaches not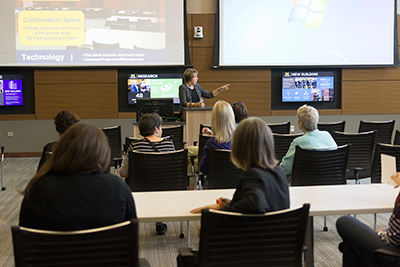 just in coursework, but in future areas of research. Videoconferencing equipment allows students to connect with nursing peers in India, Haiti and elsewhere. 
"Health care is at a challenging time in this country and across the world," says Dean Potempa. "It is our responsibility and great privilege to provide the kind of educational environment that will position our students to be future scientists and leaders with the ability to address the most pressing health care concerns."
Where is the new building located?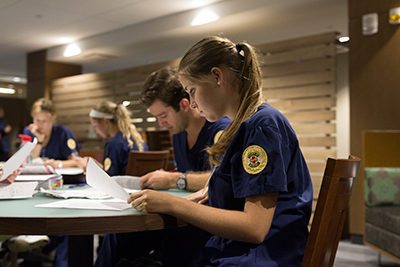 The address is 426 North Ingalls St. It is at the corner of North Ingalls and Kingsley, just north of the 400 North Ingalls St. location.
Why was a new building needed?
UMSN is experiencing steady increases in student enrollment, and facilities were never sufficient for innovative learning.  Although the school history traces back to 1891, this will be the first time in 124 years that UMSN students have a building designed specifically for engaged nursing education.
What will happen to the 400 N. Ingalls building?
It will remain in use for School of Nursing faculty and staff.
How should we refer to the buildings?
The new building will be called the School of Nursing. The other building will be referred to as 400 North Ingalls (400NIB).
Is the new building eco-friendly?
Yes, a wide array of "green" features makes the building eligible for
Gold LEED certification
, a measure of environmentally conscious construction and usage.
The project and design team incorporated numerous sustainability features into the design and construction. Examples include above-grade insulation, automatic lighting systems in most spaces, high-efficiency chillers and boilers, reduced water-flow plumbing fixtures, and an area of green "living" roof. The location also features highly efficient irrigation and storm water management, plus native shrubs and trees to enhance and protect the surrounding environment. During the construction process, crews diverted 180 tons of material for recycling.
How big is the new building?
It is 78,000 square feet. The CLC has 13,000 square feet.
How long did it take to build?
The ceremonial groundbreaking was held in April 2013. Site preparation began in October 2013. More details on construction updates are available on the
UMSN website
.
How much did it cost?
The University of Michigan approved $50 million in funds for the new building. Gifts to the new building from donors have generated  more than $3.8 million for the School of Nursing's endowment including a $1.3 million endowment for the facility. UMSN is very grateful for all donors who support the school's educational needs.
How can I support the School of Nursing?
There are many ways you can support the School of Nursing. Your gift of any size can be designated for student scholarships, faculty support, areas of need or
specifically for the new building
. Named spaces in the new building range from $25,000 to $5 million. UMSN's Office of Development and External Relations has a team to assist you in deciding the best way for you to give. Call (734) 763-9710 or explore UMSN's
Giving web pages
.