Global Highlights: Nursing Students Make Summer a Season of Learning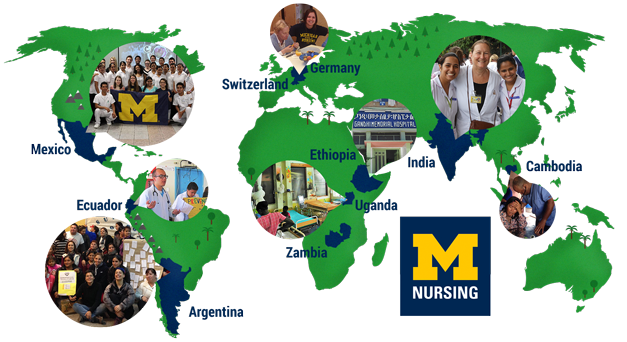 University of Michigan School of Nursing (UMSN) students traveled to five continents during the summer break to advance their nursing proficiency through a global lens. These opportunities come through a variety of U-M programs and beyond.
See more photos.
University of Michigan School of Nursing Programs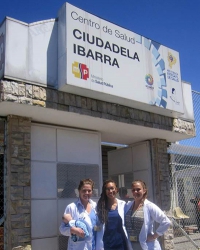 UMSN faculty led two of the 2015 U-M
Global Course Connections
programs. Students enrolled in N421 prepared by studying health issues in low- and middle-resource countries from an interdisciplinary approach. They learned about global public health principles, gave presentations on progress towards improving health in the countries they would visit, and wrote research papers on key health challenges in those countries. Smaller groups of N421 students set out for two different field experiences. Each group was joined by a clinical section from N456: Community Health Nursing, following a special spring course. 
Ecuador
Led by UMSN Clinical Instructor
Megan Eagle, RN MS MPH FNP-BC
, five nursing students and seven U-M College of Literature, Science and the Arts (LSA) students
 traveled to Ecuador to explore global health issues firsthand. During their two and a half weeks in Ecuador's capital city of Quito and surrounding areas, they engaged with workers and patients at health care clinics, stayed with families in both rural and urban areas, toured hospitals and gave educational presentations related to health promotion and risk reduction. They also participated in a meeting focused on maternal mortality held by midwives and village health educators.
India
Opportunities for nursing students continue to expand in India as the relationship strengthens between UMSN and Salokaya College of Nursing in New Delhi. Led by UMSN Clinical Instructors
Norma Sarkar MPH, RN
, and (previous instructor) 
Amber Dallwig, MSN, RN
, 10 nursing students and six from LSA spent two and half weeks in India for a community health immersion experience. They made the rounds of hospitals, clinics, non-governmental organizations and community health centers around New Delhi and participated in in-depth discussions with Salokaya students and faculty about comparisons between Indian and American nursing practice and education. 
Mexico
Communication through a language barrier can be difficult enough, but when it involves health care and its complex terminology, communication can be even more complicated. That's why two UMSN faculty members,
Amby Gallagher Ph.D., APRN-BC
, and
Mary Martinez-McCormick
traveled with 11 nursing and LSA students to Mexico for a six-week spring term course, Health Science 300: Spanish Language for Heath Care Professionals. Students and faculty lived with host families and worked on their Spanish at 
Instituto Cultural Oaxaca
. In addition to intensive language classes, including grammar, conversation and Medical Spanish, the students also completed a seminar on the Mexican health care system taught by Dr. Gallagher. For the last two weeks students volunteered in local hospitals and social service agencies around Oaxaca.
To learn more about the global opportunities at UMSN, explore the
Global Outreach
webpages for information on courses, locations, programs, and funding.
More Global Experiences Through U-M
The Wallenberg Summer Travel Awards honor the legacy of
Raoul Wallenberg
, a U-M graduate known for his humanitarian efforts during the Holocaust. Two of the seven U-M students selected for the prestigious awards in 2015 were nursing students.
Uganda

Katie Finn, a UMSN Hillman Scholar, used her award to work with children who are cognitively impaired due to malaria. She partnered with the Global Health Uganda Computerized Cognitive Rehabilitation Therapy (CCRT) team for a study to determine the effectiveness of CCRT on improving neuropsychological and psychiatric outcomes. "The Ugandans worked hard, not for a publication, but for the hope to improve the lives of their children and future generations," says Finn. "It is easy to become consumed with the data but this summer has motivated to always keep the person before the paper."

Read Finn's blog

. 
Argentina

Empowering and educating young adults through health care workshops was the focus of Lucia Michelazzo Ceroni's award. Ceroni, a 2015 graduate of UMSN, traveled to Argentina to work with underserved youth. She led several workshops on topics including gender issues, sex education, and access to health care. 

Ceroni also attended a nationally organized rally for political support to protect women from gender-related violence.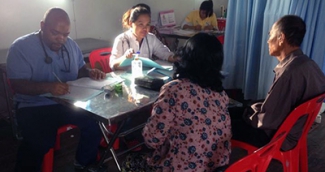 Cambodia
Robert Flood, a UMSN/Peace Corps Coverdell fellow, completed an internship in Cambodia focused on occupational health and mental health nursing. His project included a survey of demographics, health and working conditions. With a goal of highlighting current workplace standards and limited access to care, that data was used for presentations to non-governmental and community organizations. Flood also participated in clinical rotations at a local health care facility. Flood's internship was supported by a grant from the U-M President's Advisory Committee on Labor Standards and Human Rights.
Ethiopia
UMSN
Hillman Scholar
Kristen Choi is part of a U-M effort to establish a clinic to provide comprehensive services for survivors of human trafficking. The Ethiopia-Michigan Platform for Advancing Collaborative Engagement (EM-PACE) is a multi-disciplinary effort that includes faculty and students from nursing, medicine law, public health and others. Choi conducted a situational analysis to advance the health component of the clinic. "Nurses have a critical role in the health care infrastructure in Ethiopia, and I'm excited to be involved in a project where there is potential to develop nurse-driven interventions to improve health outcomes for human trafficking survivors," says Choi. Her work builds on the efforts of two UMSN
nurse practitioner students who participated in fact-finding planning
in spring 2015.
Zambia
Master's student Samantha Madden spent 12 weeks with Africare in the Eastern and Luapula Provinces of Zambia. She worked on the Zambian Maternity Homes project to develop infrastructure to combat disease and reduce child and maternal mortality. Madden is the first nursing student to receive a
William Davidson Institute
Global Impact Internship Fellowship.
India
India was also the location for master's student Shannon Fearday. She spent six months (three of them in India) implementing the open-source learning management system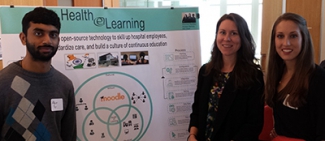 (LMS) Moodle for two different health systems. The project aimed to enhance access to standardized, reusable health education materials for improved quality of care and patient outcomes. The project is part of the 
Global Information Engagement Program
 based at U-M School of Information. 
"Working with a diverse group of students helped me to see how valuable nursing informatics was in creating and implementing the learning management system," says Fearday. "We were working with real clients on a problem they were having at their hospitals. They benefited from our information solution, while at the same time I was able to learn and advance my skill set in a safe, yet real world setting."
Read Fearday's blog.
Switzerland
Savana Tello, a UMSN master's student, spent two months interning at the International Organization for Migration in the Migrant Health Division (MHD) as a Global Health Fellow in the 2015 Duke University Program on Global Policy and Governance. During the internship, she attended the 68th World Health Assembly, where MHD advocated for migrant-inclusive strategies and Tello helped coordinate an informal dialogue on "Healthy Migrants in Malaria-Free Communities." Following the internship, Tello also completed a week-long intensive course with daily seminars and site visits from international organizations headquartered in Geneva.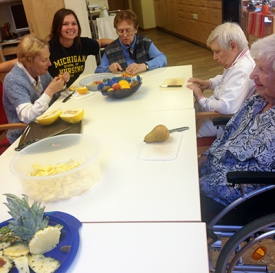 Germany
Undergraduate Sarah Brzezinski's summer internship supported her plan to specialize in geriatrics and fulfilled a longtime dream to visit Germany. She found a paid internship in Munich at an assisted living home and prepared with a month-long intensive German language course before starting work. Brzezinski's duties included feeding patients, helping them with physical activity, and acting as a companion. While some patients were physically healthy, others were bedridden or otherwise impaired. "It allowed me to practice and improve my non-verbal communication exponentially," says Brzezinski. "It is a very good feeling to know that I am making a difference in their life, in what is likely to be the last few years of it."
Students, did we miss you? Please share your summer health care experience with
sn-comm@umich.edu
.